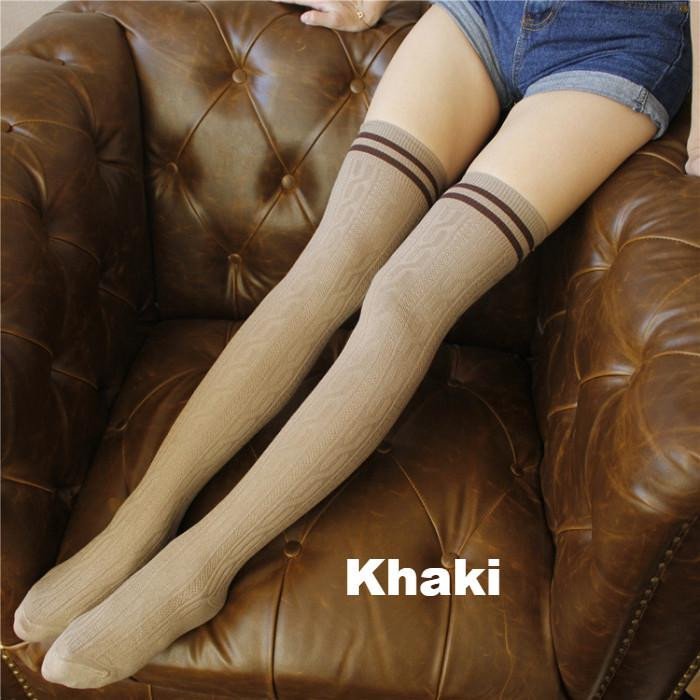 Though cotton thigh high socks retain moisture; they are the most breathable, inexpensive & perfect socks for every season. Cotton thigh high socks are made from natural fiber that is airy & light weight. However, people involved in strenuous physical activity such as gym-ing, hiking, running etc must avoid cotton thigh high socks as wearing sodden socks for a longer duration can promote fungal growth and infection in feet.
5 Benefits of Wearing Cotton Thigh High Socks
1.Versatile
Cotton thigh high socks are known for the versatility they offer. This staple garment help you build/ layer just any outfit because they make great combinations.
2.Hypoallergenic & Breathable
People are switching to natural fibers. They are more absorbent & breathable. Cotton socks are comfortable for everyone regardless of the age factor due to being naturally hypoallergenic. People who respond negatively to synthetic fibers are appreciated to switch to cotton socks.
3.Huge Options
They are widely available due to being inexpensive. Cotton is easy to dye so you can find almost any color on earth from solid neutral colors to funky violet, punk green etc.
4.Perfect for Lounging
Cotton thigh high socks keep your feet warm & dry when lounging. It is advised to either wear open feet shoes or to completely avoid them with cotton socks. Since cotton socks may get soaked if you sweat overly; it is necessary to keep letting your feet air dry to prevent bacterial growth.
5.Bio-Degradable
Being manufactured from natural fiber, cotton thigh high socks are bio degradable. They are the favorite fabric type of the environmentalists. Go green by making wise choices when selecting garments.
6.3 Notes about Cotton Thigh High Socks
As stated earlier, cotton thigh high socks absorb moisture. Feet trapped in moisture-rich environment facilitate fungal growth & leave stinky odor. Do not wear them when you expect your body to sweat out excessively. They may also rub against ankles and back of the heel leading to open sores.
Cotton socks are recommended only for lounging or during a day that requires no vigorous physical activity. If you love to wear cotton socks at gym or when exercising for the comfort they provide, make sure you put off your shoes to let the moisture evaporate from socks.
Cotton socks may be a bit nuisance in cold & dry environment due to static cling. Moisturize your heels adequately to prevent the discomfort.
We have a collection of perfect lounge wear for your lazy Sunday. Have a look at our summer essentials & create casual outfits using cotton thigh high socks & fashion tees.