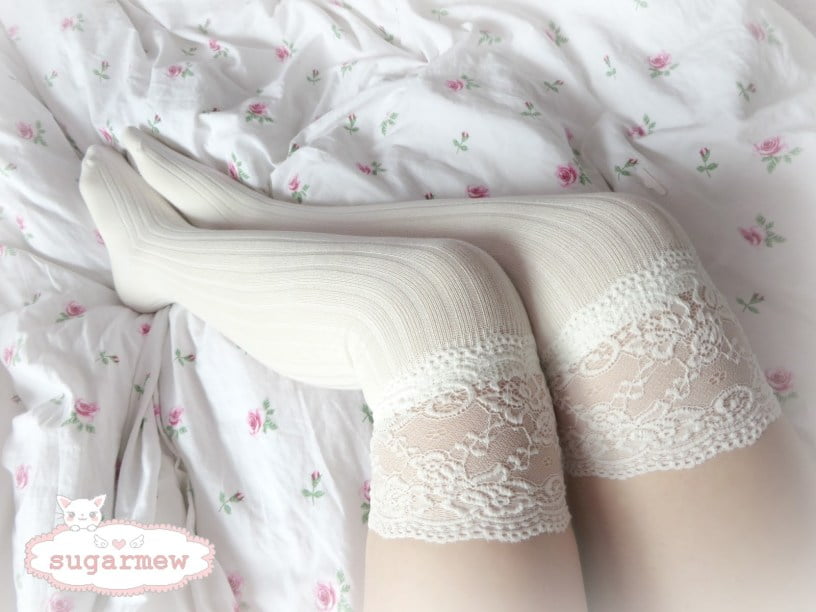 Our feet got the most sweat glands than the entire body due to which we sweat the most on heels. This is nothing to feel embarrassed about as this is how human body naturally works. Taking measures to keep your feet dry in summer becomes essential to prevent fungal growth. The best option for women should be thigh high socks, made from natural fibers. Man-made fibers such as polyester, plastic, nylon etc. are not good at moisture-wicking properties, hence will keep your feet wet & heated.
Benefits of Wearing Thigh High Socks in summer
We have previously written in detail that why wearing thigh high socks in summer should be a norm. Besides keeping you in pristine condition, these socks keep your feet stay airy. Even though you prefer going bare legs in summer, we would recommend you to wear thigh high socks to prevent tanning in warm weather.
Since no other fiber than naturally found is able to wick off moisture; you will always have to revert back to cotton thigh high socks. Not only these are very inexpensive and easily available; they are also very comfortable, lightweight & airy. Unless you are an athlete; your only choice for summer socks will be cotton thigh high socks.
Avoid Smelly Feet with Cotton Thigh High Socks
Some people perspire excessively even after following good hygiene. The only problem with cotton thigh high socks is how they absorb moisture from your feet. Cotton does not only absorb moisture but also trap heat. If your feet are not allowed to air-dry; the moisture rich environment with the heat, trapped inside shoes will create a very friendly environment for bacterial growth.
Cotton socks do not only absorb moisture but also retain it thus keep your feet wet. This leads to stinky shoes & bad odor in feet. Follow these tips to keep your feet dry & fresh in summer. If nothing works, try switching to woolen socks. Wool is also a natural fiber with great moisture wicking abilities. It quickly absorbs moisture from your feet and wick it off, keeping your feet dry.
Woolen socks also require less washing (yes it may sound disgusting but it is true) than the cotton counterparts. Unfortunately, wool is not an option is summer. Therefore, either go bare legs or wear light breathable cotton thigh high socks for a casual yet updated & easy-to-go summer look.