The month of November, every year makes history. With high speed internet & impressive penetration of IT among masses globally; people are now more comfortable trusting the cyber community. To catch the bandwagon, UNIQSO Enterprises has already launched the "Mega SALE". Grab your favorites at up to 50% discount. Remember the mantra "The more you shop, the more you save?" Sales will last till 29th of the Month, so hurry up before all the goodness is sold out!
It's not Just a Cyber Monday- It's a "Cyber Week"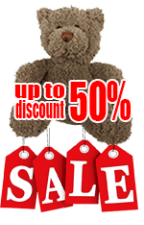 Gone are the days when customers would find it toughest to manage between sales & work. To help everyone avail the crazy deals, efforts of online retailers are worth appreciated. Instead of confining sales to "Cyber Monday" only, the duration of present day holiday sales has been extended from Thanksgiving to Black Friday & Cyber Monday. Sales, usually last a week so everyone has enough time to collect the bounties.
What to Expect from UNIQSO Sales?
Up to 50% off store-wide.
Following brands are throwing love:
Barbie
Dream Color
Kawayii
Lens Story
Western Eyes
EOS
Sweety
Dolly Eye
I.Fairy
Kimchi
ICK
ICODI
Vassen
Cafe Mimi
Princess Mimi
GEO
GEO Xtra
Geolica
Colorvue
Flash
Skin care, makeup accessories, wigs, costumes including socks & kigurumi also offer tempting discounts.
Place a huge order over $60 & enjoy free shipping. So what are you waiting for? Shop till you drop! This is the best time to shop for Christmas. Make your holidays brighter & fun by availing the unparalleled discount deals!