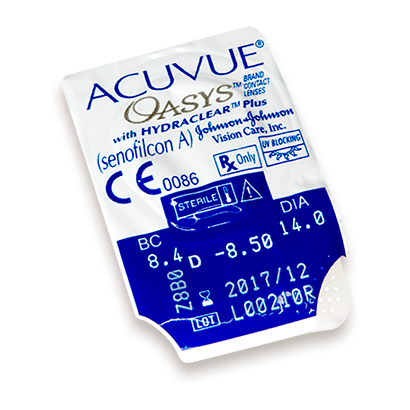 Disposable soft contact lenses are available in 2 types that are extended wear and daily wear. Both of the types aim at improving visual acuity where the former can be left in eyes while you sleep and the latter have to be removed every night. However; patients with sensitive eyes, prone to catching eye allergies and dry eyes would like to opt for daily disposable contacts as they require minimal care and are more frequently replaced. At this point it is important to understand that daily disposable contacts are not to be confused with daily wear contacts.
So, what are Daily Disposable Contact Lenses?
The first thing that discriminates daily disposable contact lenses from daily wear contacts is the replacement period. As mentioned by name, daily disposable contact lenses are worn during day time only for maximum 6 hours. At the end of the day you discard the lenses and pop open a fresh pair the next morning. On the other hand daily wear contact lenses are safe to be worn all day without having them to be removed to allow your eyes to breathe. They allow maximum flow of oxygen to keep your eyes comfortable and hydrated. Although they need to be removed at bed, unlike daily disposable contact lenses; daily wear contacts last you until the intended discard date arrives. Daily wear contact lenses are available in Bi-weekly replacement schedule.
Best Extended Wear/ Daily Wear Contact Lenses
Acuvue Oasys with Hydraclear plus are the most prescribed brand today in the market. They are made from a material not found in other brands which ensure a comfortable fit. The lenses stay moist keeping your eyes hydrated. Furthermore Acuvue Oasys also provide UV protection. They have received a seal of approval from AOA for being class-1 UV blockers. The standards are set by the American National Standards Institute (ANSI) and the International Standards Organization (ISO).  In order to be considered a class 1 UV-blocker, the contact lenses must block 90% of UVA rays and 99% of UVB rays.
Acuvue Oasys are both used as daily wear and extended wear lenses. If your doctor has prescribed you to wear Acuvue Oasys as daily wear then replace it every 14 days. If you are using the lenses overnight then you can leave them in eyes for straight 7 nights and need to replace after the said time has passed.
Try Air Optix Night & Day by Alcon if you want your extended wear lenses to last you for a period of 30 days and nights. Not recommended to people with sensitive eyes. The lenses reduce accumulation of surface deposits and allow oxygen up to 5 times.
Please remember this is the maximum duration you can wear your daily and EW contact lenses. Some people need a shorter replacement whereas others are not able to tolerate anything in eyes when they sleep. While EW contact lenses are a great alternate of Lasik surgery you might need to consider daily disposable over EW in case you have dry eyes or conditions like hypoxia. Talk to your doctor instead of making a decision on your own!
P.S Please take note of the origin you are importing your lenses from. Manufacturers take geographical needs into consideration while manufacturing products for a certain region. In Malaysia EW contacts are not supplied therefore treat your EW contacts as daily wear only and take off your contacts when you sleep.