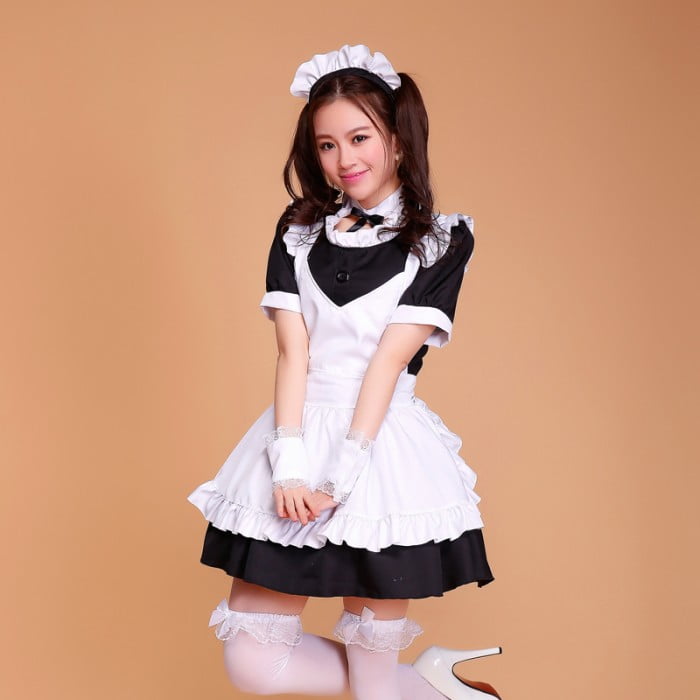 French Maid costume has evolved from a simple black and white skirt dress and apron to something more revealing, sexy & mysterious. No matter what the event is, a costume like French Maid will sure grab you the tons of attention. A French Maid costume is now used more as a fancy dress in a performing art show, at Halloween for sexy role playing & even occasionally at home to seduce your better half whilst general cleaning. Nowadays French Maid costumes are available in several colors that has taken the fashion timeline towards the Lolita side. However black & white French Maid costume finished with trimmed pinafore, still holds the reminiscent value. To get the real version of French Maid costume that reflects the essence of the 19th Century's French Maids; check your costume for the following details
Black French Maid Dress: Go for only black & white French Maid costume to do the justice with the real spirit of the maid. It is usually a one piece black skirt dress with a white trimmed pinafore that keeps the dress clean whilst home keeping and serving the guests. The skirt should be short and must not go down the knees. Some French Maid costumes offer more of the fetish by showing off the knickers as you bend. If you want to keep your French Maid costume modest, you can always get white tights or thigh high socks instead of fish net stockings.
 Sleeves: A traditional French maid costume has plenty of sleeves but depending on your choice you can also get a sleeveless outfit. The sleeves may be full length, bishop sleeves or cupcake.
Satin Gloves: This is optional but it adds more to your aesthetic self. Satin long length gloves make you look elegant and classic. They also keep your hands safe from being untidy when you are serving drinks to your master or dusting & mopping around. Gloves should be the minor color. For instance if your French maid costume is black & white; the gloves should be white to maintain the harmony.
Stockings: A traditional French Maid would wear black sheer tights but today fishnet stockings are more prevalent. Some women prefer to wear thigh high socks so that they can still flash some of the skin, ruffled undergarments and or skirt details when they bend working around the home or café.
Head Dress: A French maid costume that is complete and ready to wear will offer you a headdress along with it. It is usually a ruffled piece of fabric that you wear or tie around your hair. If it is not available a white ribbon tend to do the job just as wisely.
Shoes: French Maids love to wear high heels. They are a symbol of sex and eroticism so the higher the heels the better. French Maids only wear black shoes but you can switch them for white if you have a thing for it.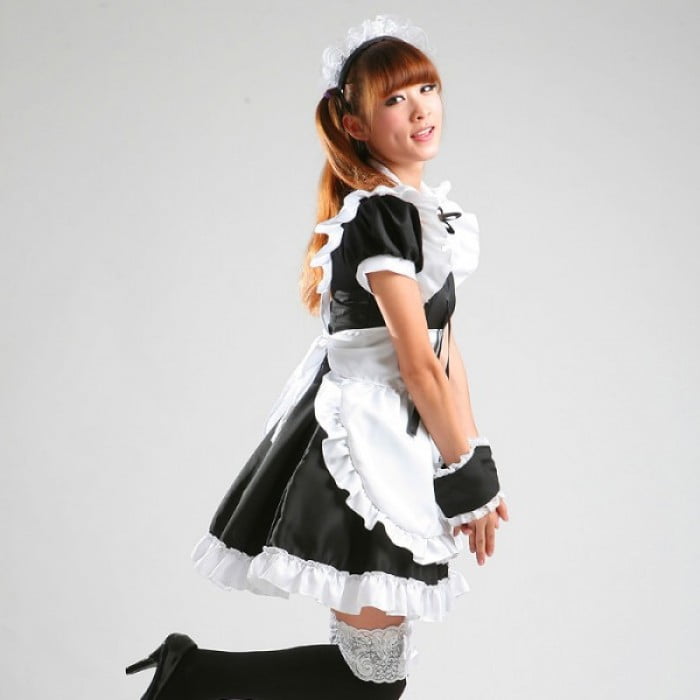 Wearing an adult French Maid costume is sure a fire way to grab attention. Talk, walk & act erotically to lure the master! Be the sex bee with our French Maid costumes that are kind of modest yet very arousing!