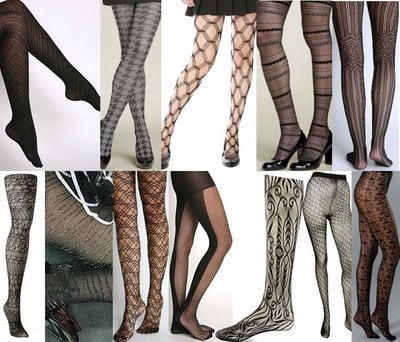 Generally women prefer wearing black tights & stockings because it is said "When in doubt wear black tights". Black solid tights are an understood choice when you are stuck in a wardrobe dilemma. However, there are times when you want to go bold & crazy and a bit off the track. Patterned tights and stockings are a very powerful accessory that you can wear to achieve the look of your dreams. Balance your sexy patterned tights with conservative tops such as pencil skirts, sheath dress or a loose tunic. When choosing patterned tights, consider the shape of your legs to rock the attire like a pro.
Choosing Patterned Tights according to the Shape of Legs
Sparse Patterns
Patterned tights & stockings featuring sparse and large designs will make your legs looks bulky. Donning such tights create an illusion of larger & heavier thighs. Therefore avoid wearing these stockings if you already have curvy thighs
Dense Patterns
Tights boasting dense & cluttered patterns compliment every one, no matter what size your thighs are. Since the small & dense pattern stabilize visual harmony; they look more flattering. They create an illusion of slimmer and elongated legs. Women with shorter legs should prefer patterned tights with dense designs to help making their legs look more hose like & longer.
Vertical Stripes
Tights with vertical pinstripes will cause curvy legs look curvier. These tights are greatest medium to balance skinny or slim legs. These patterned tights also make your legs look longer.
Geometric Patterns
Geometrically patterned tights such as large fish nets will draw more attention towards curves. Wear fishnet patterned tights only when you want to give your skinny legs a bit of the shape & feel.
Wearing patterned tights that do not compliment the shape of your legs will make you look trashy. Learn to maintain a balance between your patterned tights and the top to steal the show.