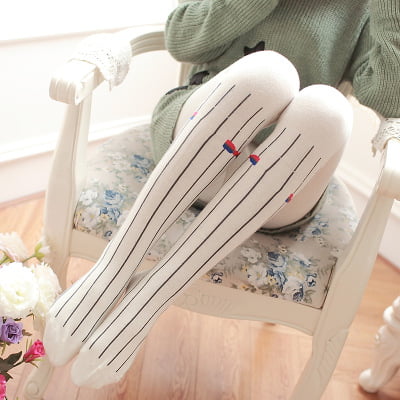 Along with thigh high socks, tights are the wonderful staple that help you build a new outfit every day. Ditch your junkie leggings with opaque chic tights. They don't only help you skim down your flabs but also help you adjust with the temperature swings as the weather takes a transition from winter to summer or vice versa. Irrespective of how scorching is the Sun or how deep snow falls on the ground; you can always keep looking your best with tights. It is all about making the right choice & complimenting your outfit. If you are into-peek-a-boo stylization, we bet tights are the best thing that will ever happen to your closet.
Choose the Right Prints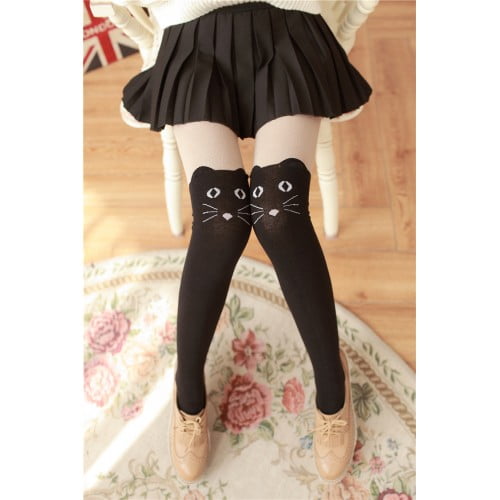 When choosing printed tights, keep a note that not all prints are created equal. Some prints make a bold impact whereas others work to bring out the grace in your personality. In order to look slimmer, choose small prints. The smaller the print, the thinner will be the illusion.
If you don't believe us, try & play around with different patterns. Some patterns can perform well in slimming whereas others will have an entirely drastic effect.
Wear Black Tights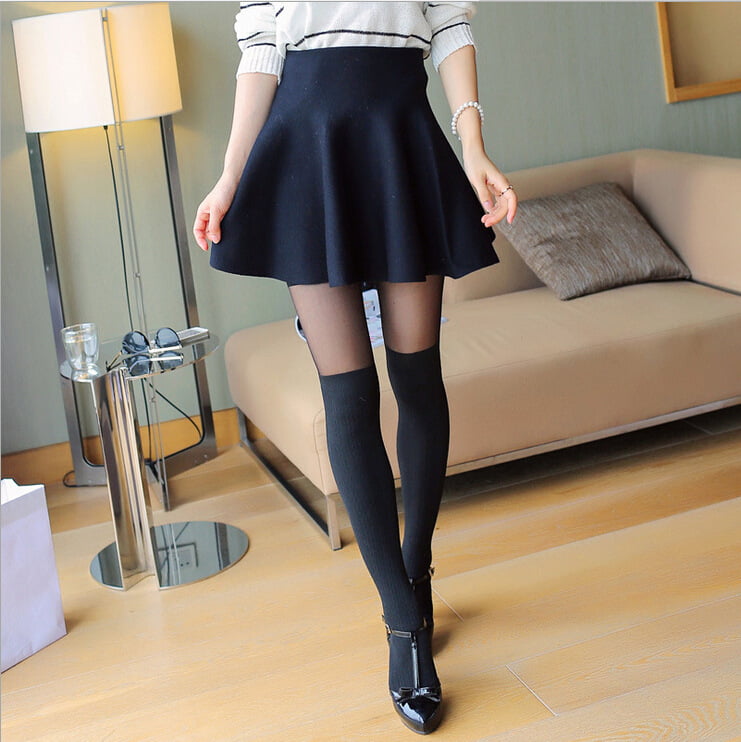 Even though tights are available in every rainbow color, not every color helps you fake a slimming effect. If you are not confident about pulling off just any color then here is a rule of thumb. Go for black tights. Black opaque tights are classic, chic & timeless. Wear them at any occasion or at work; black continue to remain utter satisfaction since this color is a fashion mirage that makes you appear slimmer. Fashion experts often take support of putting black color on their clients' problem body areas.
With High Heels & Mini Skirt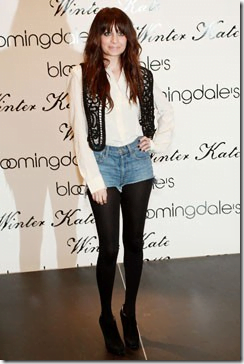 Though a right pair of tights is itself enough to fake a miraculous slimming effect, pairing them with high heels makes a huge world of a difference. High heels help you stand straight by improving your posture. They elongate your frame & create an illusion of petite, long legs. Miniskirts that stop just above the knees do great silhouetting your body shape. You look curvier yet taller that results in a slim body posture.
Avoid Baggy Clothes
You might have seen how thigh high socks & tights look chic on magazine girls but not on you, when paired with loose sweater dress. Instead of feeling low & ridiculed, do remember that not even the magazine girl look like a girl in the magazine! Every one possesses a beautiful body, it is how you own and flaunt it. If you are working to make yourself look slimmer in a photo shoot; avoid baggy clothes with tights. Baggy clothes make you look appear more giant than you actually are. You need structured clothing such as sporting a trendy jacket that stops at your midsection. A jacket with a cinched waist fakes an illusion of a slim waist and accentuates your bottom.
Key is to keep a balance in your outfit. You don't want to draw attention on your tights but want to compliment your entire outfit to help you look your best and a size smaller. When wearing bright colored pants, compliment pairing them with a neutral color. This helps creating a harmony & make eye movement easier than causing distraction. Similarly wear sheer tights with a conservative top as you don't want to end up look coming straight from the burlesque.