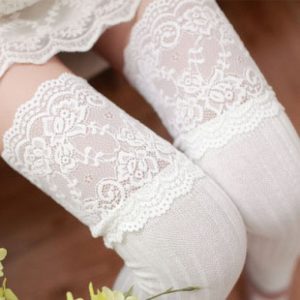 Thigh high socks help you look sexy and chic. It is however imperative to understand that pairing thigh high socks with the wrong pieces will stoop down the entire look. Thigh high socks provide you warmth that can be doubled by wearing sheer tights underneath. Options with over the knee socks are countless- it all depends on how creative you are.
Consider thigh high socks a raw complimentary essential of your wardrobe. These chic hosiery pieces help concocting a new look everyday provided you have a bunch of stockings, tights & thigh high socks at your reserve. Wearing thigh high socks with a mini skirt and sneakers will give you more of a school girl appearance than that of a fashion diva. You don't need to spend hundreds when building an outfit using your favorite thigh high socks. Simple yet tacky tricks will get the job beautifully done.
1.Layering with Patterns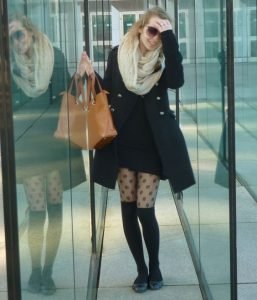 Thigh high socks come handy when in spring and winter all you desire is to get the warmth and snuggle of the comfortable outfits. Pair plain thigh high socks in neutral colors with patterned tights underneath or create a striking impression by pairing textured thigh high socks in bright colors, layered over plain hose tubes. (Tights)
Throw a loose and flowy top that is long enough to cover your butt. Be careful with the selection of colors since too solid and neutral colors with no contrast may end up making you look like a school girl.  Be playful with colors of the top you wear.
2. Pairing with High Boots, Ankle Booties & Flats
You need to be careful about the shoes you wear with thigh high socks. Avoid wearing pumps & trainers especially when you are wearing thigh highs along with mini skirt. Though high boots are comfortable only in winter; you can always go for ankle booties & flats. Try matching your shoes with the color of your thigh high socks to keep everything neutral. Yet often times it is a good idea to make a statement wearing socks in bright colors that are in contrast with your boots.
3.With Sheer Tights underneath or with Faux Tights
This is the best and a common fashion practice. Wear your thigh high socks over sheer tights. This prevents flashing off your skin bluntly yet provides a sneak-peak. Remember to match the colors of your tights and thigh high socks or else you will end up looking trashy.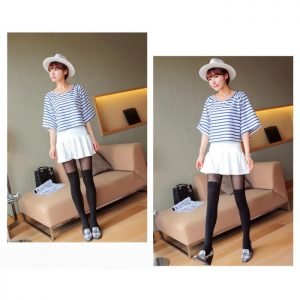 Faux thigh high socks come handy when you are not into layering your outfit. These are actually the tights that goes up till your waist and cover your butt. They are however printed in such a way that creates an illusion of thigh high socks till over the knees and the rest of the part is kept transparent that matches your skin tone.