---
Estimated reading time: 4 minutes
---
Is contact lens prescription the same as eyeglasses prescription?
Before going into the symptoms of a wrong prescription, it is important to know that we cannot use eyeglasses prescription for our contact lens prescriptions as they are significantly different.
Eyeglasses are position approximately 12 millimeters from our eyes. As for contact lenses, it is sitting directly over your eyes. It is required to have two different tests and measurements.
Can I use my glasses prescription for my contact lenses?
No, you should not use your glasses prescription and try to convert it to your contact lens prescription. Prescriptions for both glasses and contact lens should examine, and a person that needs glasses may not be able to wear contact lenses. It is also because there are many types of eye-related complication like sensitive corneal that causes them not to adapt with wearing lenses.
Although you cannot use your glasses prescription for your contact lenses, there are ways for you to convert them. It is recommended to understand the abbreviations on your eyeglass prescription before convert.
First, you begin the prescription for your right eye, which is usually written as O.D O.D.and it is above O.S. (O.D = oculus dexter).
Then you will have to enter your sphere number into the sphere tab, which usually written as SPH. It is crucial to include the symbol +(positive) and – (negative) in front of the value.
Cylinder values need to be enter into the cylinder tab if you have them. It is usually written as CYL. For the cylinder, you only have to locate the negative symbol in front of the value. Cylinder with the plus symbol will need to convert into the – (minus) form.
Axis is usually written as AXIS. You will have an axis value if you have a cylinder value. Please enter your axis value into the axis tab.
After finish all the steps, repeat the whole process for your left eye. It is usually written as O.S and is placed right below O.D (O.S = Oculus Sinister)
---
Read More: How to Read Contact Lens Prescription and Get It Right
---
Is the right prescription of contact lenses important?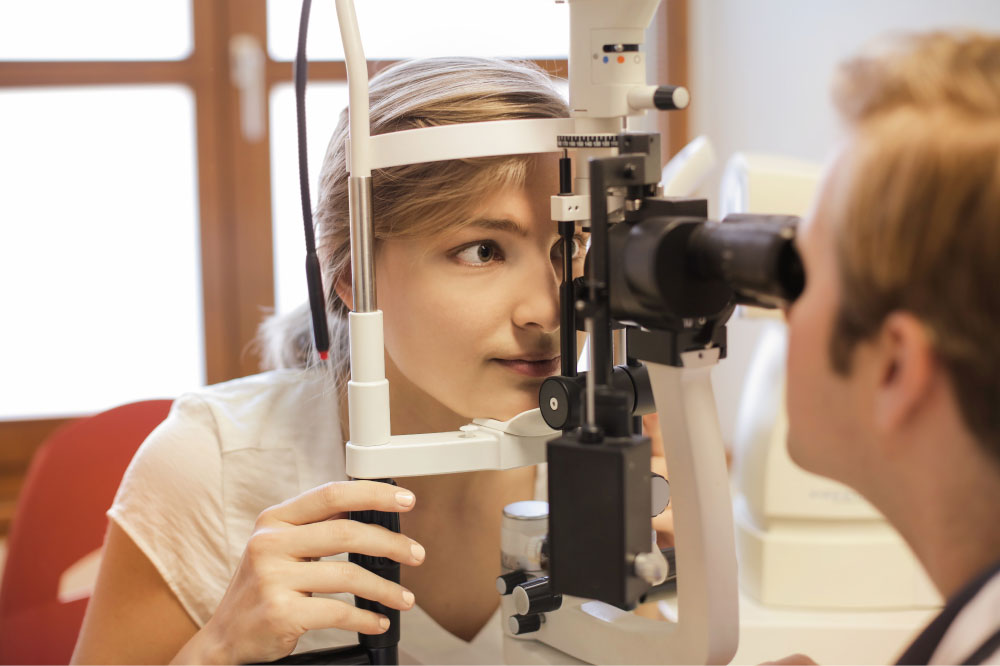 Yes. It won't harm your eyes temporarily but it will damage your eyes in the long run. If you are due on your annual eye exam but have been saving some bucks then look for the following 3 signs that tell that you need to fix your prescription on an immediate basis.
What Are The Wrong Contact Lens Prescription Symptoms?
Blurred Vision
It is the first aspect of wearing contact lenses with an expired prescription. Prescription contact lenses are meant to improve your vision. Wearing them with the wrong prescription will typically cause impairment to one's vision. In some cases, patients notice improvement with wrong prescriptions but vision will not be crystal clear. A patient may also notice eye strain, headache & slight dizziness with wrong prescription contact lenses.
Discomfort
Your doctor will recommend you with either glasses or prescription contact lenses thorough eye exam studies. Cornea- the front of the eye on which contact lenses float has slight differences in shape from person to person. A professional eye doctor will take different readings including determining one's base curve. BC is responsible to ensure you feel comfortable in contact lenses and it varies from person to person. Although an average BC is 8.6mm. Wearing contacts with too tight BC obstructs tear supply & oxygen permeation that may lead to hypoxia & discomfort. On the other hand, wearing prescription contact lenses with too loose BC keeps your contacts moving. It can cause corneal scratching & may be even more dangerous.
Corneal Ulcerations
As per American Academy of Ophthalmology, wearing the wrong prescription contact lenses could lead to corneal ulcers. They are diagnosed during a complete eye exam. They will identify scarring, light sensitivity, severe tearing accompanied by excruciating pain. If you experience any such discomfort you may immediately seek an evaluation from your eye doctor as neglecting medical assistance may lead to permanent vision changes.
Conclusion
It is important to check your eyes once every year. Request your doctor to provide you a copy of your prescription so that you could order your prescription contact lenses online or from the store of your choice. Remember, the prescription of your glasses and contact lenses is not the same.
---
Read More: