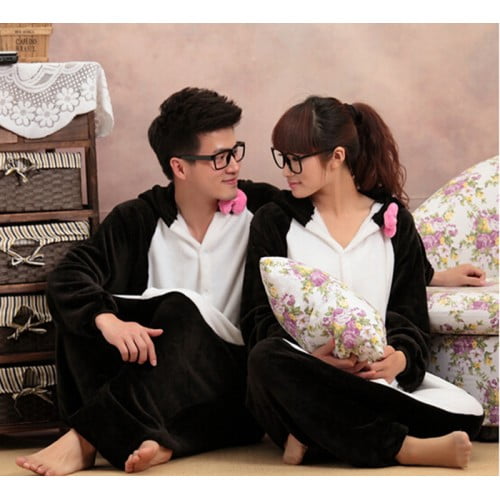 Kigurumi onesies serve multiple needs. They are durable & comfortable beyond your expectations. These stuffed toys PJs are the cutest trend that last you longer, serve at costume events & make lounging easier.
These are one size fits all but to get the sizes for children check out the toddler & kids costume line. Since they are unisex PJs, both men and women can enjoy the trend. These PJs can be so relationship-locking that you wear it today & your better-half enjoys the same comfort tomorrow. Sharing a costume was never this fun earlier!
4 Alternate Uses of a Kigurumi
Street Wear: In Japan teen agers and adult love to roam about in the streets wearing Kigurumi. However, in the other parts of the world, specifically in States where the trend is strengthening its root yet; people don't seem to accept the idea of wearing it outside than Halloween.
Lounging: It makes one of the best casual dress for lazy Sundays. These onesies keep you warm & comfortable when the weather is in the transition mode. Wear a tank top or a t-shirt inside or wear it with nothing beneath. It all depends on your perception of modesty.
Sleep-Wear: Adults though don't prefer sleeping in PJs; kids usually do. They are incredibly soft & feel like a bed-wrap. Your toddlers would love to take a nap after partying hard.
Cosplay: The most famous use of Kigurmi is observed in Cosplay conventions. With added makeup, they make an entire costume.
Kigurmi PJs are thoughtfully manufactured. They are actually three dimensional with a lot of attention given to the right placement of character's body parts from eyes to nose, tail & other little details. Though they are easy on pocket, you should expect to pay more if you are buying an official mascot of a company or buying a popular gaming icon's Kigurumi. A good quality fleece kigurumi with an average life of a year or two will cost you $30. Be very careful of how you wash & clean your onesie. Fleece is prone to piling and improper washing may reduce the life.