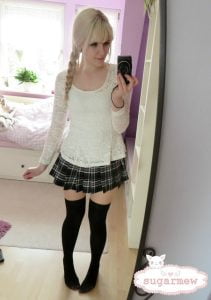 Thigh high socks help you build an outfit your way. Depending on the colors, patterns and textures you decide to choose; thigh high socks inspire you for your own formal, dressier, structured and casual outfit on the go. Since these over the knee socks fall towards the provocative side of the fashion, it is a good idea to stay conservative with your tops. Unless you are aiming to be a show-stopper at the late night pub; stick to dress tops when wearing thigh high socks.
1.Balance your Look with Conservative Tops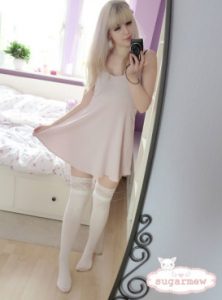 If you want to draw attention towards your lean legs and your eye-catching thigh high socks then be calm with the other pieces of your outfit. Balance your look by wearing tops with high necklines such as turtle neck. Also, keep the colors of your top very soft otherwise your outfit will look too busy and trashy to make an impression. With thigh high socks, wear tops that you otherwise consider boring. Opting for sexy, deep or low necklines will make you look like a pole dancer instead.
2.Opt for Flowy & Over Sized Tops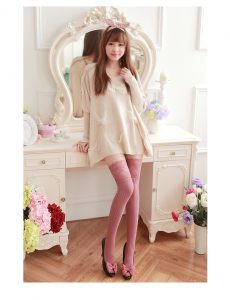 These tops are best to pair with your chic thigh high socks. Overly proportionate loose tops keep everything subdued and fairly casual. Instead of hugging your feminine curves like crazy, these tops simply drape them for a casual yet arousing look at the same time.
Flowy tops like a chunky large sweater, kimono style blouses, tunics & cardigans make the right combination.
3.Opt for Fitted Tops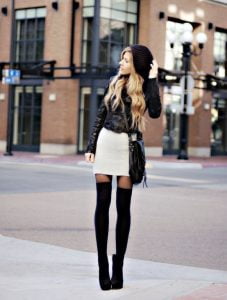 If you like to wear thigh high socks at work, consider wearing fitted tops. Over the knee socks help you maintain your structured look that is considered classy for most of the work environments. Pair your thigh highs with fitted tops, jackets or button down blouses with high necklines.
Last but not the least…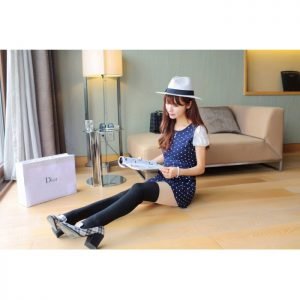 Accessories yourself in moderation. You are clear at your mind that the most attention grabbing piece you are wearing is your thigh high socks. Let them be the center of attention. Accessorize moderately. Instead of wearing loud pieces, focus on pulling out the look together. Scarves and hats are common options whereas beanies and barrettes are avoided to prevent a busy look. Always remember, the flow of eye movement from one piece to another piece in your outfit should be smoother than having to budge it at every other accessory you don!