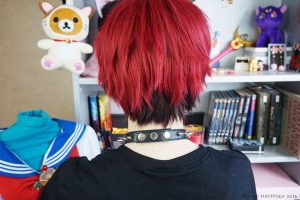 Synthetic wigs are preferred than human hair wigs by the majority of the women. Not only these wigs are handy to carry and easy on maintenance; they also are versatile enough to create a new style every day, provided your synthetic wig is heat resistant. Makeup with your budget & keep your synthetic wigs look new following these 5 tips.
It is necessary to wash your synthetic hair wigs with good intervals. Washing them too frequently will destroy the fibers by causing unnecessary stress at the roots where they are sewn. Similarly washing them less often will cause product buildup and oil deposits by prspiration at the wig cap that is supposed to meet your scalp when you wear it. It is suggested to wash your synthetic wigs every 6-8 wears. Please note, just washing your synthetic pieces won't do the job. You need to be careful at taking measures that keep your investment safe from being tangled and faded.
1.Pre Wash
Gently take the tangles out using a wig brush and comb. Once your wig is smooth to touch, get ready for the next move.
2.Washing your Wig (A)
Only use wig specific products as human hair shampoo will not be rinsed thoroughly. Products specific to human hair wigs may turn synthetic fibers dull & brittle. You can wash your wig by submerging it into cold water tub or by running cold water from under tap. Do not rub through the fibers. Let the wig be fully soaked in water mixed with wig shampoo for few minutes. Agitate gently and be very specifically gentle at the wig cap. Rinse under cold water & take the shampoo out.
3.Conditioning your Wig (B)
To help your synthetic wig last longer, it is crucial to keep the fibers manageable. Run your fingers through your fibers using wig conditioner. Avoid the wig cap & hand tied areas as conditioner soften the knots and hand tied areas can become untied causing thinning of hair. Rinse your wig thoroughly and blot the excess of water using a towel.
4.Drying your Wig:
Do not dry your synthetic wig in open sun light. Direct sunlight may fade your wig. The best way to dry your wig is drying it over a wig head as it allows circulation of air equally through the fibers. If the wig stand is not available you can alternate it by using any cylindrical object such as a hair spray can covered with a hand towel. Do not try to dry your wig over a Styrofoam head as it can stretch out the wig cap when the wig is still wet.
Though heat resistant synthetic wigs can bear heat without being damaged, it is advised to use synthetic wigs with as less styling as possible. Using styling products such as gels, wig glues & dyes can adversely affect the longevity of synthetic wigs.