Maid café restaurants are subculture of Japan where innocent & youthful women are recruited to serve customers. Waitresses are made to wear maid costumes that were introduced first in anime, manga & other Japanese fictional stories. Café maid restaurants serve the fetish fantasy of the anime fandom where the central role-playing revolves around young maids wearing sweet & cute maid costumes.
Maid cafes offer typically the same menu where customers can order coffee, beverages & snacks. Maid cafes are discriminated because of the unique attire the employees wear. Cute & innocent maids wearing maid costumes also provide hygiene & personal care services such as ear-cleaning, arm, leg & back massage, provided customers remain fully clothed. Café maid costumes typically follow the structure of a French Maid costumes except with the color difference. Coffee shop maid costumes leave a cute & friendly impression which throws gestures of warmth & affection towards customers.
Since Maid Cafes focus only on friendly gestures; they allow no room for "sexy role-playing" therefore maid costumes for restaurants & coffee shops are any color but black. However, black maid costumes are also being famous currently that are not as revealing as expected of them.
Maid costumes consist of a petticoat, a pinafore, a matching frill & a head accessory along with thigh high socks that are often white. Café maid costumes are comparatively less divulging as compared to French maid costumes. Therefore, they fall towards the Lolita side of the cosplay category.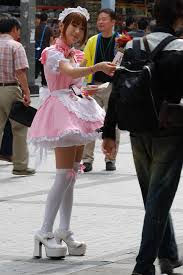 Maid cafes are predominantly famous in Japan where the basic rituals involve greeting customers with affection. Waitresses dressed in maid costumes are bound to call the customers "Master or mistress". They kneel down before the customers when offering towel wipes at the entrance. Café maids also wear animal ears to add more appeal to their entire outfit.
—
"Our maid costumes are a complete package that offer head dress, dress & apron. They are not only easy to wash but easy to maintain. The perfect cuts & seams hug your silhouette elegantly to complement your indispensable maid waitress impersonation. Get cute coffee shop maid costumes here for a new kawaii you!"