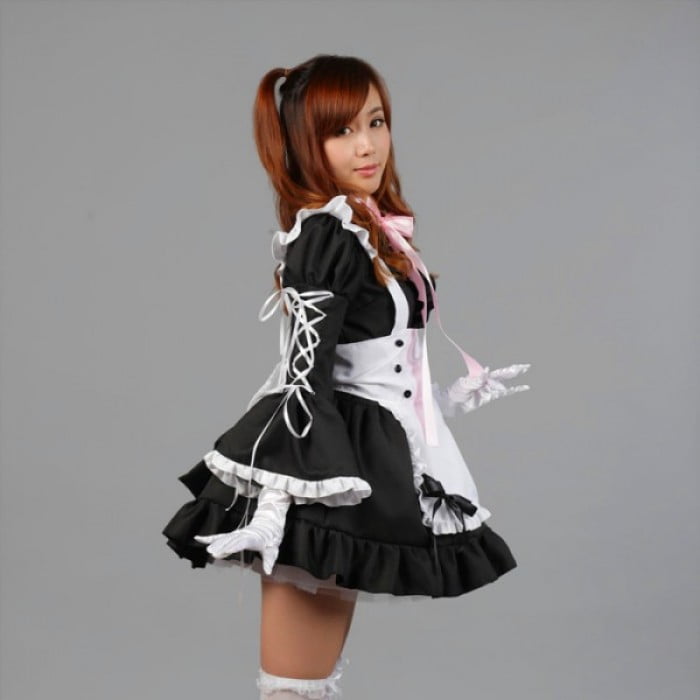 Create your own version of 50 Shades of Grey wearing our hottest French maid costume. No you don't necessarily need to speak French but you can definitely set the flames in bed by donning a divulging bad ass French maid costume. Act seductive & sultry to attract your better half. Let things get spruced up! Draw the curtains & dim the light! It is time to play naughty with your master. Before you go with the flow, have a look at our diverse range of French maid costumes.
Moves that endorse you are a Real Sexy French Maid
After getting dressed up as a hot French maid, the least you do is "dusting around the home"; even if you are expected to do. Act perplexed with eyes innocently widened in bewilderment.
Pretend if you are cleaning around, but take fetish moves that turn your master on! French maids are wrong conceived. They are actually meant to get dirty but are posed as if were hired to clean. When your master approaches you, act innocent but be flirtatious. Don't let any chance go waste. Fetch him to bed & show off your assets that you hide beneath one of our sensual French mid costume.
Be Submissively Seductive
French maid costume is all about sexy role playing. You won't get the job done until & unless you become one. When wearing a French maid costume, focus on some sultry peek-a-boos. The inviting gestures should be strong enough to spark him a message yet submissive enough to prove you as an obedient maid. Stay disguised in your behavior. Bend down whilst serving your master a cup of coffee & dust the objects around (as again you can show your bosom bending down). Also try cleaning things up above to grant him enough chance of up skirt peeks.
Get on flames; rip him off his clothes whilst you still seduce him by your frilly feminine French maid costume. Make sure you are wearing your sheer white stockings as this leaves an impression of chastity. Get your French maid costume into notice by unveiling your naughty secrets from under it.
French maid costumes are available in PVC to add to the French maid's attributed fetishism. Vinyl coated fabric however may be uncomfortable for some. Our French maid costumes on the other hand are made from uniform cloth that is highly breathable & capable of staying cool even when you two are rolling over each other during intimacy.