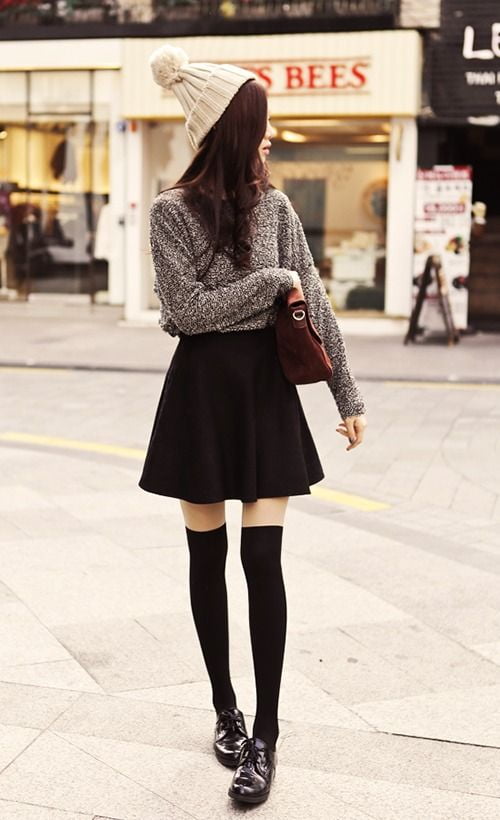 Thigh high socks can never be worn alone obviously. You need other clothing articles that complete your outfit. Being a staple product, benefits can be drawn from thigh high socks throughout the year. Unfortunately, most women mess-up when choosing between colors of the socks and matching it with the rest of the outfit. If you are a beginner, start with black thigh high socks & gradually come to playing around the colors.
Tips to Wearing Black Thigh High Socks for an Upgraded Look
1.Flaunt a Boyfriend Look
Upgrade your look by incorporating black thigh high socks to your attire. You can never go wrong with them since black color balances out every look you wear. Upgrade your sartorial choices to boyfriend look by pairing black thigh high socks with a borrowed T-shirt or distressed and rugged shorts from your better half. These oversized & loose tops help you find a balance between preppy & a sexy look.
Furthermore, black thigh high socks tone down the entire expression that a dress reveals. They blend flawlessly with whatever color you wear and are known to calm down the flashy appearance.
2.Create a Balance with Colors
If you are fond of wearing neon colors, bold patterns & daring outfits then consider pairing your tops with solid black thigh high socks in cotton. Pairing flashy garments with neutral colors such as black thigh high socks, cream, off white and grey calms down the aggression & boldness. Also, your socks will remain in the limelight drawing attention on your long & cylindrical legs.
3.Accessorizing is the Key
Neither you want to end up looking like a school girl nor do you want to look provocative. Never wear black thigh high socks with anything that is too sexy such as low neckline, a very tight over the knee mini skirt or flashy patent shoes. Instead try adding subtle elements to your outfit by wearing a statement necklace or boots/ lacy shoes.
4.Try Different Textures
Don't be a laggard. Thigh high socks are available in different textures. For instance crochet, fishnet, sheer and opaque. You might also like scrunch-able long socks for a laid-back style.
Black thigh high socks are essential if you are into wearing new outfits every day without being heavy on budget. You just need to learn the skills of "Mix & Match" to rock any dress you wear!