You don't consider about wigs only when you are losing hair to chemotherapy or genetic disorders like Alopecia. Wigs save you from styling troubles you face on daily basis. Having a bad hair day? Don a wig. Want to upgrade your hairstyle without damaging your natural hair to chemicals and bleaching? Try a wig. While human hair wigs boast the most bounce and volume, they may cost you a fortune. Contrary to natural hair wigs, today's synthetic fiber wigs are not only inexpensive but also light to carry & easy on maintenance. Below we are sharing 3 cheap blonde wigs that look real. Give them a try.
Buying Natural Looking Cheap Blonde Wigs
1.Buy Wigs Closest to your Natural Hair Shade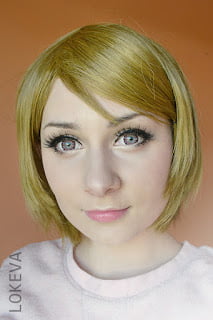 It is a no-brainer that wigs save you every day you from wasting energy that you would have spent styling stubborn hair. The key to looking your best is being able to find realistic wigs. Therefore, try a color that matches your real hair. If you are a blonde; look for cheap blonde wigs with an average hair length & volume. Opting for wigs that are incredibly thick or long than what your natural hair have never been will be speaking itself for you wearing fake hair.
Check out some natural looking cheap blonde wigs
2.Decide how you wear your Hair
In order to looking natural while wearing a fake hair unit, it is necessary you try to adjust it with your daily hair routine. If you wear your hair pulled back; try a wig with a lace at crown. This cheap blonde wig is cut in layers that give this wig a beautiful bounce & volume. The reverse omber effect with caramel brown roots fading into blonde tresses help you upgrade your everyday style at a low budget.
3.Take it to Hair Dresser
No matter how realistic your wig looks. Always take it to hair dresser for slight modification. Synthetic wigs usually are made thicker with a lot of hair fiber on the temples. This is to provide you a room for shredding & trimming as per your own liking. Be careful, you get it trimmed only by an expert who is experience in handling synthetic hair. Special shears and other tools are required to cut & style synthetic wigs.
4.Visit Uniqso for Cheap Blonde Wigs
Last but not the least browse through the huge selection of natural looking blonde wigs that are affordable yet high in quality. Our synthetic wigs are equipped with style memory that will keep the wig reverting back to its factory made style until you treat it using heat.