Eye drops keep your eyes and contact lenses moist throughout the day. There's a variety of prescription and over-the-counter eye drops available in the market. They cater to different sets of eye conditions. Some are for dry eyes while some are for redness or allergies. Today, we'll guide you through the four different types of ideal eye drops, which one is safe to be used for contact lenses, and difference between rewetting drops vs artificial tears.
---
Estimated reading time: 6 minutes
---
Identifying Ideal Types of Eye Drops and What They're Good For
When it comes to using eye drops with contact lenses, users must ensure that they choose the right one. Simply because not all eye drops are suitable for contact lenses. Certain eye drops contain oil and have a slightly thicker consistency. So, when used with contact lenses, it may compromise the vision due to the hazy effect that it produces.
The common types of over-the-counter eye drops that are ideal for contact lenses are drops for redness, allergies, dry eyes, and rewetting.
1. For Redness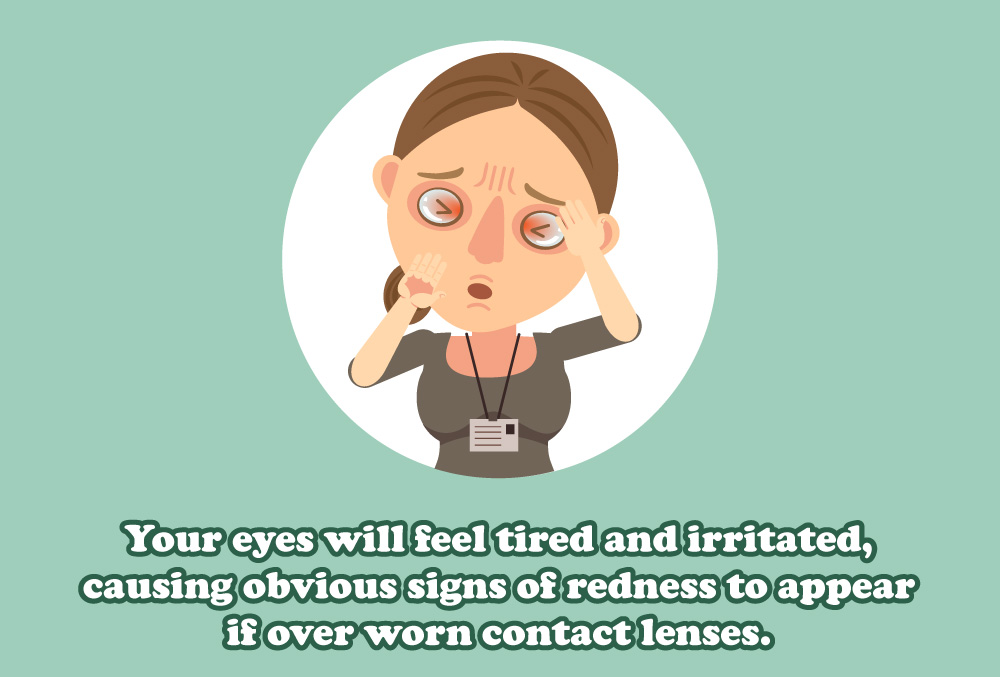 Over-worn contact lenses can cause eye redness. Eyes drops for redness contain ingredients that tighten tiny red vessels. They diminish the levels of "neovascularisation". This is where the eyes develop blood vessels to meet the required amount of oxygen from the body.
Bear in mind that the eyes are the only organ of the human body that draws its oxygen from the environment itself. Over-worn contact lenses are associated with the obstruction of oxygen. Hence, your eyes will feel tired and irritated, causing obvious signs of redness to appear.
To relief eyes from redness, quickly apply the recommended dosage. Wait at least 15 minutes before you put on your contact lenses again.
2. For Allergies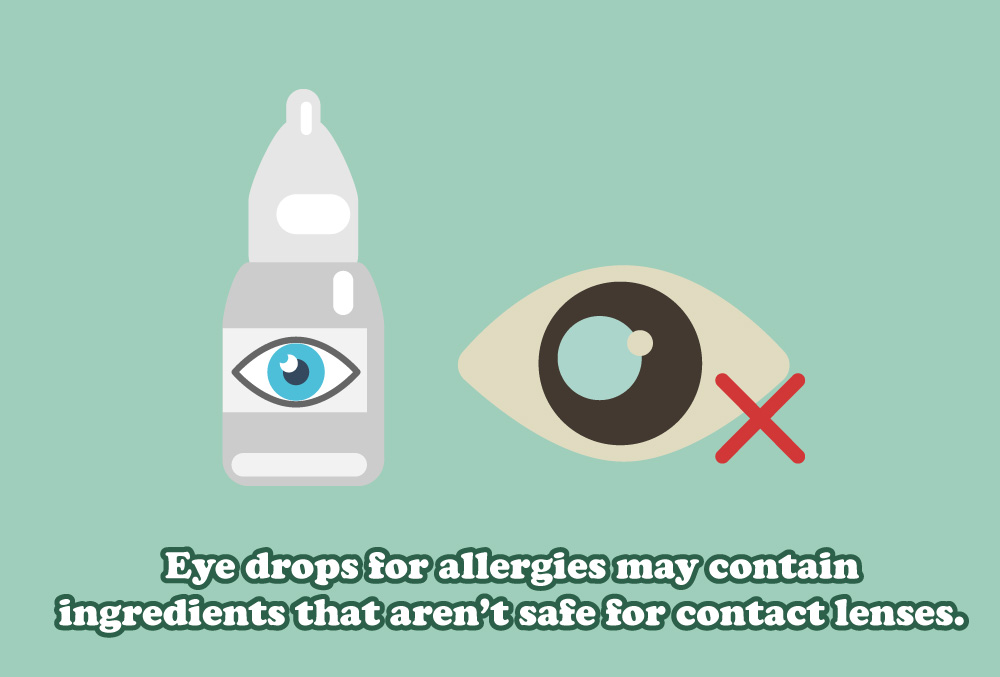 Eye drops for allergies are very complex and are available on a prescription basis only. They may contain ingredients that aren't safe for contact lenses.
However, feel free to check or consult with your preferred optician to see if the particular eye drop for allergy that you're using is suitable for contact lenses.
Alternatively, you can stop wearing your contact lenses for the time being until your eyes are fully recovered. This will also stop the bacteria that caused the allergy from transferring onto the surface of the contact lenses.
---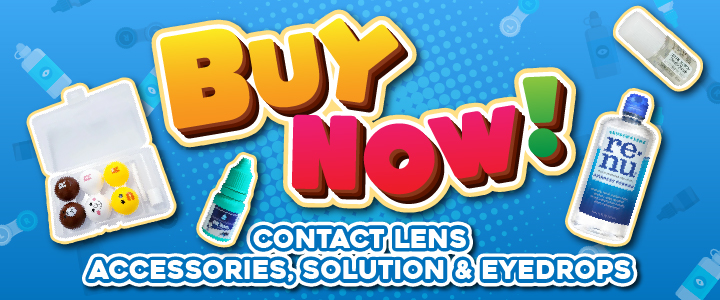 ---
3. For Dry Eyes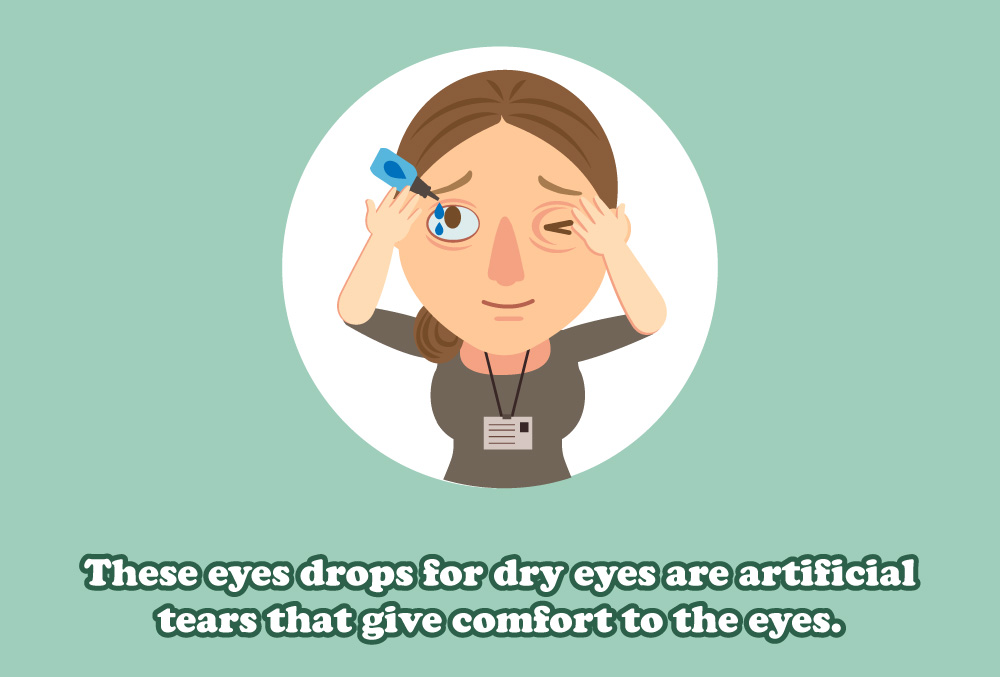 Often recognized as Lubricating Eye Drops or refresh eye drops for contacts, these eyes drops for dry eyes are artificial tears that give comfort to the eyes. Often mistaken for rewetting eye drops, lubricating eye drops can actually do so much more!
Lubricating eye drops or artificial tears work by protecting the cornea beneath the tear film and at the same time, keeps the eyes constantly moisturized. This eye drop can be used safely with contact lenses. Just make sure to look for the ones that has a 'For Contact Lenses' label on it.
4. Rewetting Eye Drops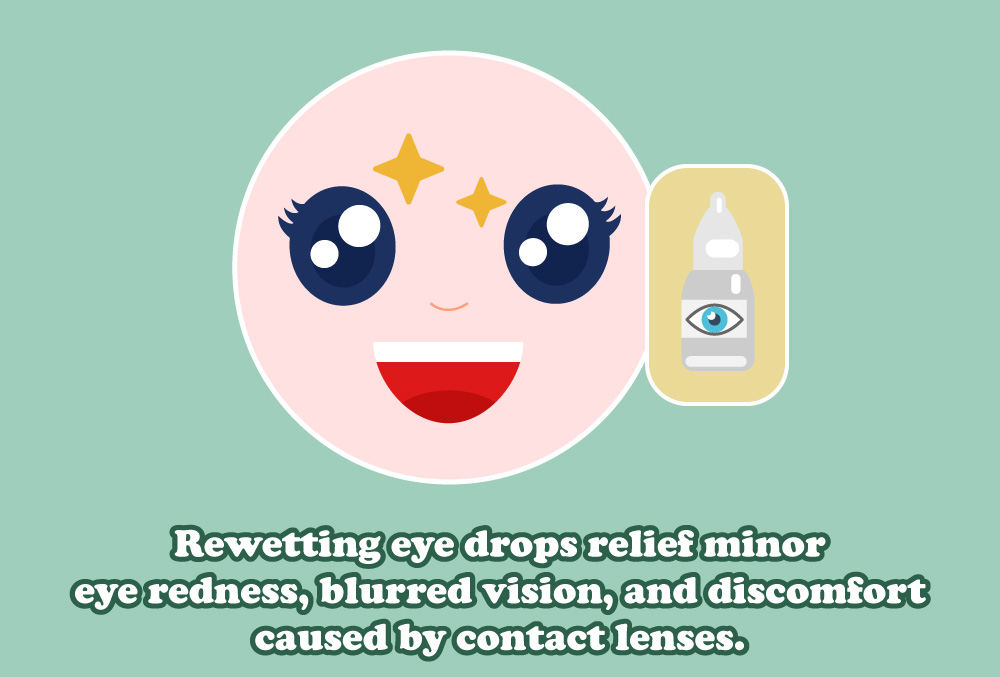 Rewetting eye drops are perfect for contact lenses. They relieve minor eye redness, blurred vision, and discomfort caused by contact lenses, similar to what refreshing eye drops for contacts do. They're also super safe to apply even when you have your contact lenses on.
What can rewetting eye drops do? They give your eyes an immediate moisturizing boost by keeping it hydrated for a longer duration. Thanks to improved eye drop ingredients, certain rewetting eye drops can also disinfect contact lenses without causing any harm to it.
Artificial Tears VS Rewetting Drops: Which is better with Contact Lenses?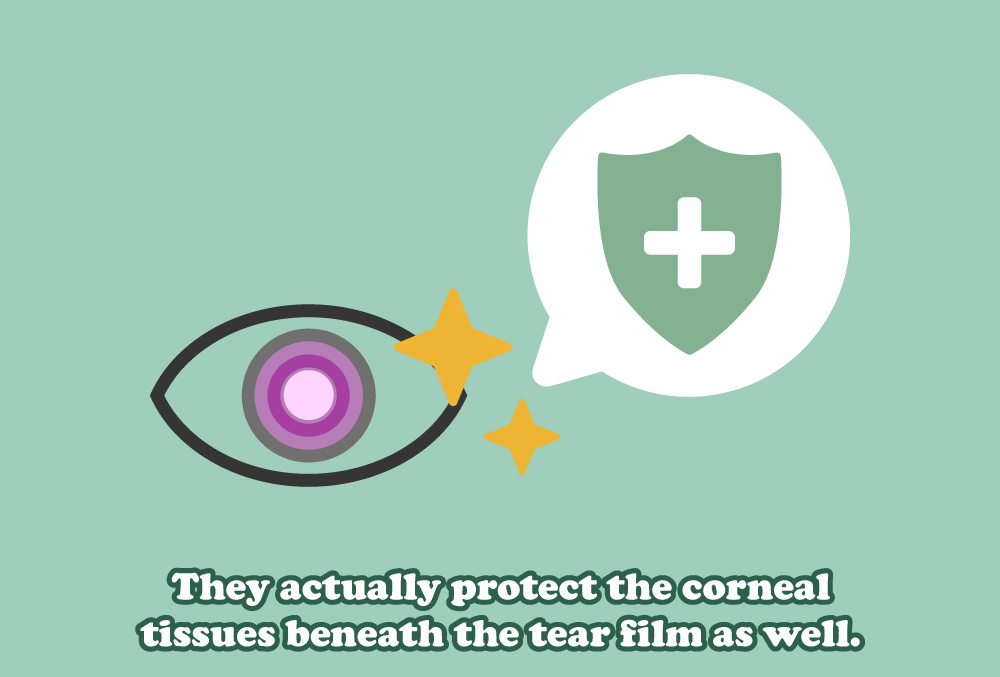 As previously mentioned, lubricating eye drops, eye drops for dry eyes with contacts or artificial tears work beyond rebuilding the tear film of an eye. They actually protect the corneal tissues beneath the tear film as well.
When the tear film stops functioning properly or when the contact lenses cause dryness to the surface, this is where lubricating drops work its magic – by coating the corneal tissue in order to reduce the friction caused by contact lenses.
It's also safe to say that artificial tears will keep your eyes moisturized and remain healthy hence the ability to endure contact lenses for the long run.
Rewetting drops or refresh eye drops for contacts, on the other hand, function differently based on the structure. While some rewetting drops coat the surface of contact lenses to make them more comfortable for the eyes, others types of rewetting eye drops will bind itself to the water content in your tear film to keep it from evaporating.
However, when used too frequently, rewetting eye drops can sometimes cause further evaporation and increase toxicity levels that can harm the corneal tissues.
---
Read More: Lubricating and Rewetting Eye Drops – What's the Diff?
---
Last but Not Least
Most eyes drops are meant to treat infection or allergies, soothe eye irritation, as well as preserve a healthy vision. If you're one who requires regular eye drop treatments, don't forget to seek advice from your optician to find out if contact lenses are ideal for the eye drops you're using. It's always good to be on the safe side.
On the other hand, do not confuse it with contact lens solution whose role is to disinfect contact lenses.
---
---
Read More: