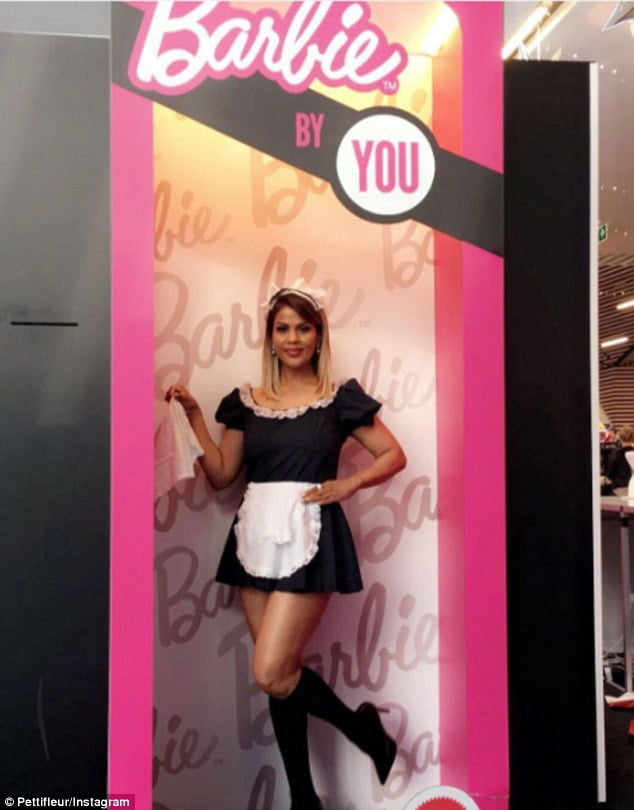 Every woman is beautiful irrespective of what body assets she flaunt. Beauty comes with diversity yet it does not mean you leave your body to do its own thing. Staying healthy, eating good & keeping your curves fit is something real women strive for. Following the same mantra; Pettifleur Berenger took to Instagram on Saturday & posted a picture of her, wearing a seductively hot black French maid costume.
The star from Real Housewives posed as a living French Maid Barbie on Saturday & shared a picture with her Instagram fans. The reality TV series is a limelight show to the narcissus women who are body-conscious. The women are synonymous to the preened appearances, perfect body & attention grabbing gestures. It does not come as a surprise for a star like Berenger with enticing curves to pose in larger-than-life Barbie doll box, wearing a naughty French maid costume. She can be seen holding a white napkin in her dainty hands with one of her leg curved upward sexily.
Pettifleur Berenger chooses a French maid costume to boast about her age defying body curves. The doily frilled costume, is sexy enough to flash her booty yet modest at the same time to keep her femininity & cleavage covered. She poses with her one arm on her hip that brings attention to her petite waist line. She compliments her French maid costume sexily with black knee high socks & pencil heels. French maid costume allows a good sight at her erotically firm & toned thighs.
She is known for her impeccable physique as just recently her pictures posing in nothing but lacy lingerie went viral. She is soon to make a comeback for the Real Housewives fourth season this year along with other seven real housewives.
So are you going to get yourself a Real life Barbie doll with a French maid costume this Christmas? Browse through our surprisingly cheap yet quality French maid costumes in varying colors.