Natural or Synthetic Hair? Should you get wigs made from human hair, or should you go for wigs made from synthetic hair? When it comes to selecting a wig, this is a dilemma that a significant number of women experience.
However, the difference between synthetic and human hair wigs is in the fiber type. Moreover, a synthetic wig could keep its shape better than a human hair even after you wash it. 
Wigs produced from genuine human hair appear and feel natural since they are created from actual human hair. But you will also need to restyle it after washing, just like real hair does.
Continue reading to learn more about the characteristics of wigs made of synthetic hair and those made of real human hair.
---
Estimated reading time: 6 minutes
---
Synthetic Wigs Vs. Human Hair Wigs
Do you know that the ancient Egyptians made wigs to cover their heads from the intense heat of the sun? It was worn for defense before Louis XIV made it into a fashion ornament in the 1600s. Louis XIV is credited with making it fashionable.
It doesn't matter who created the wig, but I'm thankful that it exists to alleviate the stress of poor hair days and hair-loss difficulties for both men and women.
Celebrities are now wearing wigs to modify their appearance without hurting their hair. Now let's see the difference between synthetic hair vs. natural hair:
Human Hair & Its Pros & Cons
There are both benefits and drawbacks to using real human hair wigs:
Advantages:
You can style human wigs to your core's content because of their versatility.
Like your actual hair, you may dye, style, prim, and add highlights to your hair. Beauticians specializing in human hair wig styling are advised for those unsure if they can style their wigs.
Wigs made of real hair are available in various textures, making it easier for those with hair loss to disguise their bald spots.
Wigs created from human hair have a lifespan of up to a year with adequate maintenance.
Human hair wigs also have the advantage of appearing completely natural on the wearer's head and having a hairline that matches their own.
Disadvantages:
They're pricey since they're made from natural hair.
Like your natural hair, which requires regular washing, conditioning, and upkeep, your extensions require special attention.
You will damage the wig if you don't take adequate care of it. It is also susceptible to drying out, frizzing, and tangling when exposed to the environment.
The wig's color fades quickly when exposed to sunlight.
A wig made of real hair is far more cumbersome than a synthetic hair wig.
Wigs made of human hair are fragile and can be damaged if they are repeatedly styled or brushed.
Example of Human Hair:
---
Synthetic Hair Wig's Pros & Cons
Manufacturers use nylon synthetic fibers to make these wigs, which mimic real hair in appearance. Here are both pros and cons of synthetic wigs:
Advantages:
Wigs made of synthetic hair often arrive pre-styled and are designed to maintain such looks with minimal effort on the wearer's part.
The wigs regain their original style after you clean and dry them.
These wigs will not get damaged no matter what kind of climate you live in.
There is a diverse selection of natural and artificial hair hues while shopping for a wig.
It's also easy to keep up with.
It's a good option for those seeking a low-cost solution to update their look.
Disadvantages:
They may have an artificial sheen to them, making the wig obvious.
A bit more expensive wig.
There is no way to adjust the wig's style because it is not heat-resistant.
Example of Synthetic Hair:
---
How to Choose the Right Wig?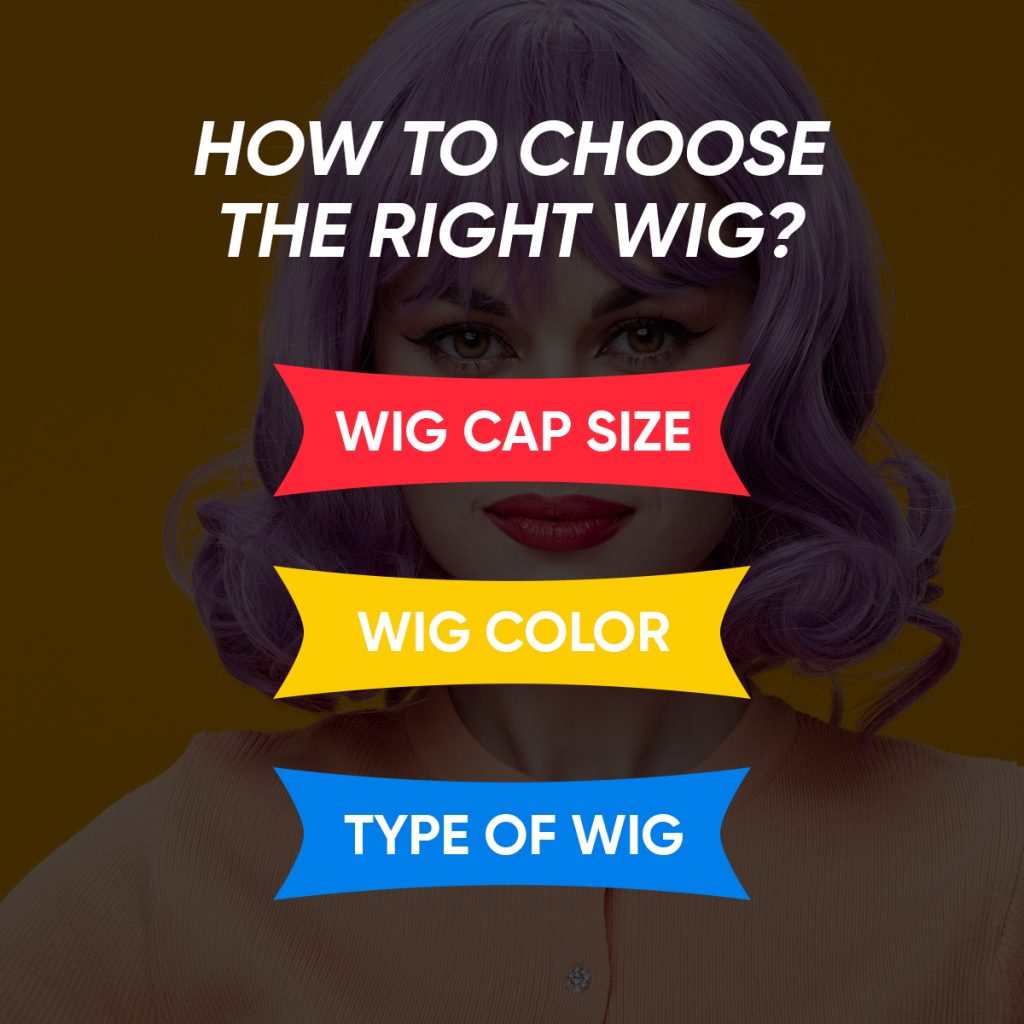 1. Wig Cap Size
First, we'll discuss selecting the correct wig cap size and why this is critical to wig security.
You won't feel or look natural if your wig is too loose or tight. It's a good idea to take your measurements before purchasing a wig to guarantee that you get the correct fit.
You'll need a tape measure to read your head's diameter accurately. The first step is to wrap the tape measure around your head from the front of your hairline to the base of your neck—tape the measurement around your ear to the front of your hairline, then back to the other side.
2. Wig Color
After that, we'll talk about how to pick the perfect wig shade. The wig color should match the color of your present or most recent hairdo if you're trying out a wig for the first time.
You'll be more comfortable wearing a wig if you've changed your hair's color somewhat.
While picking a wig color, your skin tone is another thing to keep in mind. In addition to giving you a more natural appearance, finding the right color match for your wig will boost your self-esteem.
You may experiment with different colors and styles as you get more comfortable wearing a wig.
3. Type of Wig
This is another vital thing to consider. There are lots of models available from bunches of brands. You need to pick the proper type of wigs that suits you most.
Bottom Line
So this is all about the difference between synthetic and human hair wigs. Between those two, we recommend you synthetic hair for a dynamic look and style.
Human hair wigs are more natural-appearing than synthetic hair wigs. Human hair wigs aren't superior since they're made from actual hair. High-quality synthetic hair beats genuine hair wigs.
It depends on the buyer's budget and the wig's purpose. Cheap synthetic wigs can be used to modify one's style temporarily. Human hair wigs are advised for hiding hair loss and balding.
The human hair wig cap follows the natural hairline, making it more realistic. Synthetic wigs are the greatest fashion accessory for rapid style changes.
Happy wig-shopping!
---
---
---
Read More: