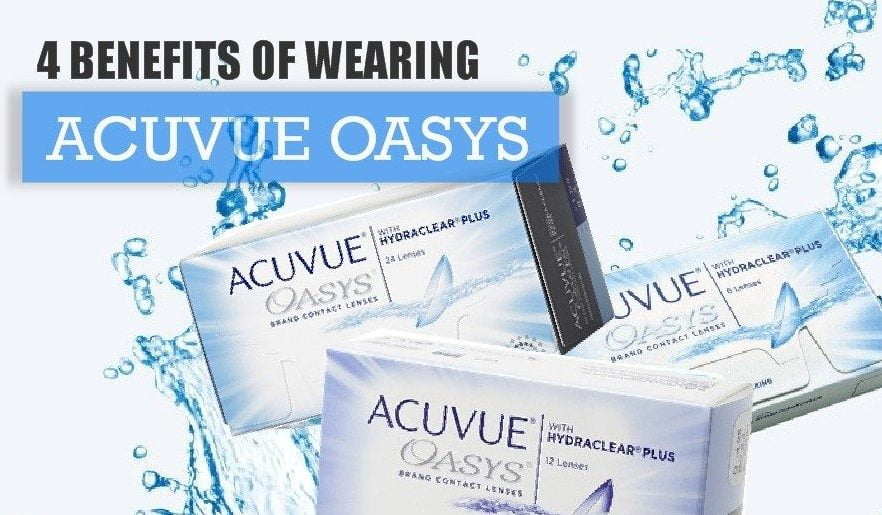 Contact lenses have been helping people around the globe to maintain crisp vision with complex prescription. Most of the people prefer prescription contacts over fidgeting spectacles but contacts have their own limitations. They obstruct oxygen permeation making the entire experience quite uncomfortable especially for someone having dry eyes. Acuvue Oasys addressed the issue and introduced Hydraplus contact lenses that are made from an advanced version of Silicone hydrogel material. They are the most recommended type of contact lenses & doctor's no 1 choice for patients with dry eyes.
Benefits of Acuvue Oasys Contacts
Acuvue Oasys with Hydraplus are recommended to people with demanding lifestyle. People who work on digital screen, in air-conditioned environments or surroundings that deal with heat & chemical fumes might want to switch to contacts that provide comfortable fit & are frequently replaced for hygiene purposes.
They are ideal for
Increased oxygen supply
Reduced glare from digital screen
Strong UV interception
Impressive water retention
What are Acuvue Oasys made from?
Acuvue Oasys are made from Senofilcon A material- a type of silicone hydrogel that combines silicone polymer with water rich agent to keep your eyes moist & hydrated. The exclusive & patented material helps retaining moisture while keeping lens soft & comfortable to wear which is very unlikely with standard silicone hydrogel lenses. While standard silicone hydrogel contact lenses are also noted to provide utmost comfort because of them being able to allow 5 times more oxygen supply, they make a lens that is a little stiff & uncomfortable at times. Solving this issue, Oasys allow 500% more oxygen flow with other remarkable benefits such as UV interception, prevention of bacteria adhesion and reduced glare from digital devices.
How frequently should I Replace Acuvue Oasys?
Acuvue Oasys are aimed at people with significant eye sensitivities & allergies. They are bi-weekly contacts and must be replaced twice in a month. Frequent replacement keep your eyes healthy by preventing protein buildup and cell debris. Acuvue HydraPlus are also approved for 6 nights extended wear/7 days so you might need to replace even more frequently if you are sleeping in with your lenses. If you need 30 days extended wear contacts, please buy Air Optix Night & Day by Alcon.
Acuvue Oasys with HydraPlus are known to be the most famous reusable contacts in terms of comfort and reliability. If you have Astigmatism, please choose Acuvue Oasys for Astigmatism. Due to the innumerable benefits, they seem to remain World's No 1 contacts for vision correction in the coming years.