It is not only Japan famous with unique subcultures but Thailand seems to hail the trend too. A very unworldly "Unicorn mythical café" has emerged in Bangkok which provides people a chance to relax, sit back & enjoy the unicorn theme menu that is a bon appetite. Don your favorite powder pink & blue unicorn Kigurumi to match the kaleidoscopic ambiance of the café & take memorable selfies with the plush toys of mythical beast.
Unicorn Café in Bangkok, Thailand looks like a spell cast by the unicorn's rainbow fart. While the beast is not real, you can surely enjoy the unrealistic dreamy atmosphere of the café. Everything inside reflects about the explosion of pastel hues. From psychedelic furnishings to the menu – beverages, desserts and carbonara; every little detail you see is a mix of rainbow hues that is way too mesmerizing. Though the café's management is thoughtful enough to ensure the providence of unicorn Kigurumi to the guests-like-customers; you can always have the privilege to flaunt in your own.
Unicorn Kigurumi is perfect for the winter season. Featuring the 3D hood with unicorn's features & most importantly the peculiar horn, the Kigurumi sets its own example of perfectionism. Made from warm fleece, the saccharine Kigurumi onesies make the best outfit to hit the unicorn café.  Available in powder pink & powder blue, these unicorn onesies are easy to slip into. The narrow details of the kigurumi that are thoughtfully replicated take these onesie to a level ahead.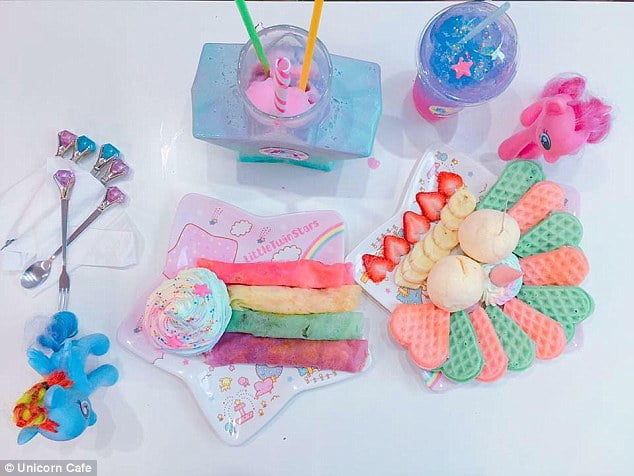 After you finish munching on the rainbow themed waffles, feel free to snuggle with plush unicorn figurines. It will be yet another mystery for the passersby to differentiate between the giant unicorn murals and you when dressed up in unicorn Kigurumi. The café is a fantasy of a child from where you can't bring anything back to your way home but the memories & the unicorn Kigurumi to keep cherishing forever!