Some people prefer contact lenses compared to spectacles due to comfortability and convenience. But, do you know what makes wearing contact lenses even easier? By investing in useful contact lens accessories, of course.
You can use many products to take care of your contact lens. These items listed below are what we recommended for you to have. These products are no longer a want, but a need.
---
Estimated reading time: 6 minutes
---
5 Must Have Contact Lens Accessories
There is no doubt that these five contact lens essentials will make your wearing experience much better. Let's look at the contact lens necessities you should have in 2022.
1. Contact Lens Case
You need contact lens cases to keep your contacts safe and clean. You will use the contact lens cases to clean and store your contacts.
FDA recommends changing your contact lens cases every three months, even though the current one still looks as good as new. But you don't have to spend a fortune on your contact lens cases. Most contact lens cases don't cost you that much nowadays.
In fact, you can get your new contact lens cases with different designs, colors, and sizes. There are just too many interesting and unique choices that you can pick. Contact lens cases are an absolute must for your daily contact lens essentials.
---
2. Multi-purpose Solution
Typically, you will use the multi-purpose solution to clean, rinse, disinfect and store your contact lenses. Most contact lens wearers prefer multi-purpose solutions because of the convenience. You don't need other products to take care of the contact lenses. All you need is one bottle of a multi-purpose solution.
---
---
Have you ever wondered why you need a specific contact lens solution, not tap water, to clean your contact lenses? Tap water usually contains organisms called acanthamoeba. This organism can cause a severe eye infection. To keep things short, contact lenses and water should never mix.
On the other hand, the multi-purpose solution is sterilized and designed specifically to clean your contacts. It is the number one contact lens essential that you should prioritize.
Proper use of the multi-purpose solution can dissolve protein build-up, remove any film or debris, provide moisture and prevent the formation of deposits on the contact lens surface. Other than that, it can also kill harmful microorganisms in your contacts.
---
3. Contact Lens Cleaning Device
You can clean your contact lenses manually using your fingers, palm, and multi-purpose solution. But, there is a better way of doing that.
Currently, there are a lot of contact lens cleaner devices that you can use to clean your contact lenses. Most contact lens cleaners clean better, safer, and faster than manual hand washing.
Furthermore, using the contact lens cleaner box doesn't have to worry about scratching your contact lens. It is indeed one of the must-have contact lens accessories.
But, how do contact lens cleaning machines work?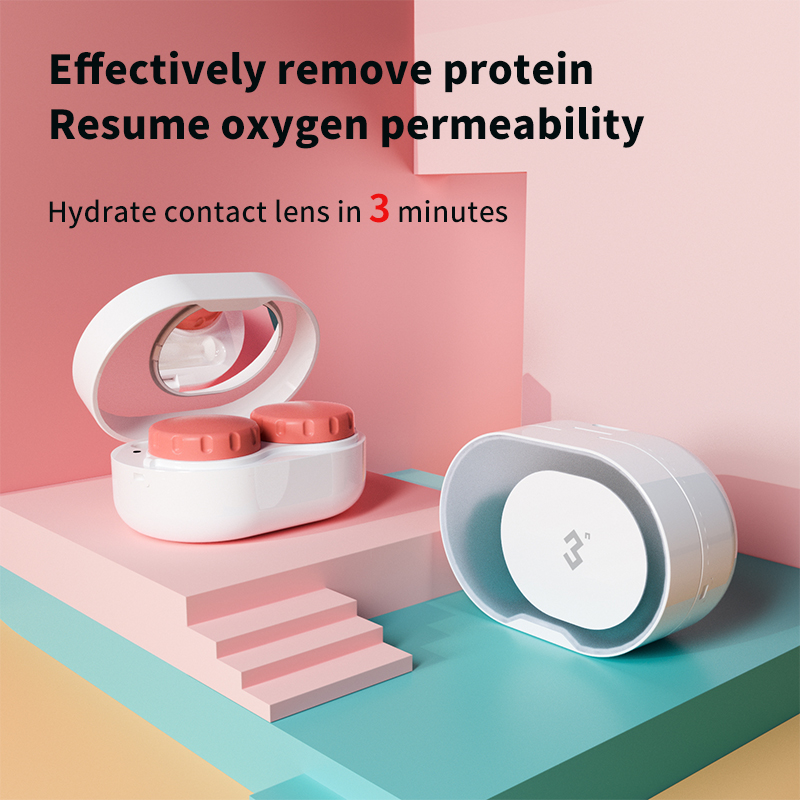 The contact lens cleaning machine adopts ultrasonic technology and uses a vibration mechanism to remove deposits, dirt, and debris from your contact lens. The vibration generates strong movement within the lens case that results in thorough cleaning.
As the matter of fact, the device doesn't only clean the contact lens alone. It also cleans the storage case at the same time. Pretty impressive, isn't it?
The contact lens cleaner device is really useful. If you use it correctly, you should be able to clean your contact lenses and contact lens cases much better than manually. As a result, you could reduce the chances of eye infections due to poor contact lens handling.
---
4. Contact Lens Tweezer And Applicator
Tweezer and applicator can help you with your contact lens daily routines faster and more efficiently. Furthermore, using these contact lens accessories allows you to handle contact lenses more hygienically and reduces the risk of damage to the contact lens.
Tweezer
Tweezer is a practical tool to remove your contact lenses from a case or their original blister packaging. The contact lens tweezers are usually made from soft plastic and a super soft silicone tip.
They are gentle to contact lens surfaces. So, you don't have to worry about scratching or tearing your contact lenses.
Applicator
This contact lens applicator is perfect for you if you have long fingernails. It is a simple and effective way to insert and remove contact lenses from your eyes.
It has the same function as your finger but the contact lens applicator works safer and faster. You can get different types and designs of applicators, such as soft scoop and suction cup.
Tweezer and applicator usually come together in a package. However, you may also buy them separately.
---
5. Contact Lens Travel Kit
You can't deny it. After almost two years stuck at home due to the world's pandemic, you can't wait to step out of the house and travel the whole world.
However, don't ignore your contact lens care and hygiene when you are out and about. Invest in a contact lens travel kit to make your journey safe and hassle-free.
You can keep all your contact lens necessities together in one place with an all-in-one lens kit. A contact lens travel kit usually comes in with a lens case, tweezers, applicator, and mirror for easy and safe handling of your contact lenses anytime and anywhere.
Most contact lens travel kits are small enough to fit in your bag or pocket. Apart from traveling, it is also suitable for outdoor activities.
It is so convenient to have everything together in one handy box. You will never be without your contact lens essentials while travelling ever again.
---
It's Time To Get Your Contact Lens Tools Ready
Wearing a contact lens has so many benefits. It gives you a fully focused vision, and freedom to enjoy your active lifestyle and improve your aesthetic look.
Having these contact lens necessities would definitely help you gain peace of mind while handling your contact lenses. So, which item would you go and grab first?
---
---
Read More: