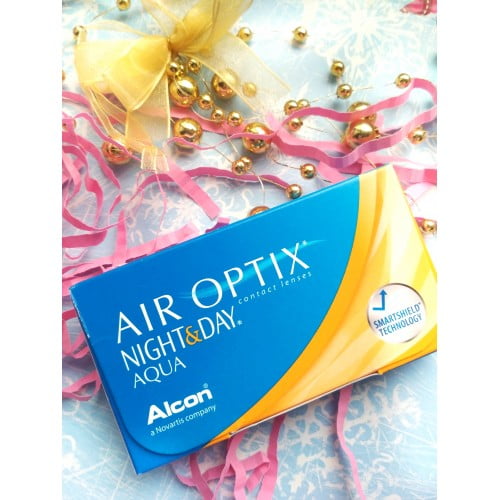 It can't be stressed over enough how injurious it is to sleep in your contact lenses. However, with the advanced technology there are a few brands that allow you to sleep in your contact lenses. Fortunately, to your surprise they are FDA approved. Air Optix Day & Night are monthly disposable lenses that are meant for people needing strong vision correction. Since waking up every day with poor vision and wobbling to find your glasses could be very frustrating, Air Optix and Acuvue Oasis addressed the issue by manufacturing lenses with silicone hydrogel that is more breathable & comfortable.
How Long Can I Use Extended Wear Contact Lenses?
Currently, EW or Extended Wear contact lenses are available in biweekly and monthly disposable schedule where Acuvue Oasys are biweekly– good for 6 continuous nights and 7 days or 14 days consecutively. On the other hand, Air Optix Day and Night are replaced once every 30 days which is also approved for continuous overnight wear.
Extended wear contact lenses are considered more convenient than daily disposable lenses but they require disinfection after each wear. They are also thicker which provides them an edge over daily disposable lenses in regards of durability. Although thinner lens is considered the most comfortable as it allows greater oxygen permeation, extended wear contact lenses still enjoy privilege as they are made from an advanced silicone hydrogel material that holds more moisture, allows more oxygen and also intercepts UV rays.
Although Extended Wear Contact Lenses are Approved for Overnight Wear..
Doctors recommend to practise "flexibility". Since wearing contact lenses approved for overnight use still pose risks, doctors recommend to wear the lenses at night occasionally. Wearing extended wear contact lenses for straight 30 days and nights prevent religious cleaning and rinsing of the lenses unlike your standard contacts and it is linked with increased contamination. Bacteria thrive in warm and moist environment and wearing lenses for too long is risky. Should you notice any changes in your vision while you are on extended wear contact lenses such as burning, inflammation, blurred or hazy vision; contacting your eye care practitioner immediately is the best thing you will do to yourself.
Some patients cannot tolerate extended wear contact lenses and some cannot tolerate anything in their eyes as they sleep. Daily disposable contact lenses come handy as removing lenses every day and tossing off eliminate the risk of infections and the need of disinfecting them every day.