Did you know that contact lens cases are not meant to last forever & are recyclable? For instance, just ask any eye specialist and they'll tell you that you'll need to change your contact lens cases at least every three months. Recycle contact lens cases would be a better alternative if you aren't a fan of discarding plastic irresponsibly.
---
Estimated reading time: 6 minutes
---
Recycling is the New Black
Please pardon us for starting this piece on a very serious note but just thought that this gentle reminder could be useful for you – ignoring the fact that you have to change your contact lens cases can be linked to serious eye infections.
Contact lens cases can get contaminated with microscopic germs when it's overused. These germs will then turn into bacteria that will make their way to your eyes, hence causing eye issues. The longer you use or keep it, the more likely this will happen.
Are Contact Lens Cases Recyclable?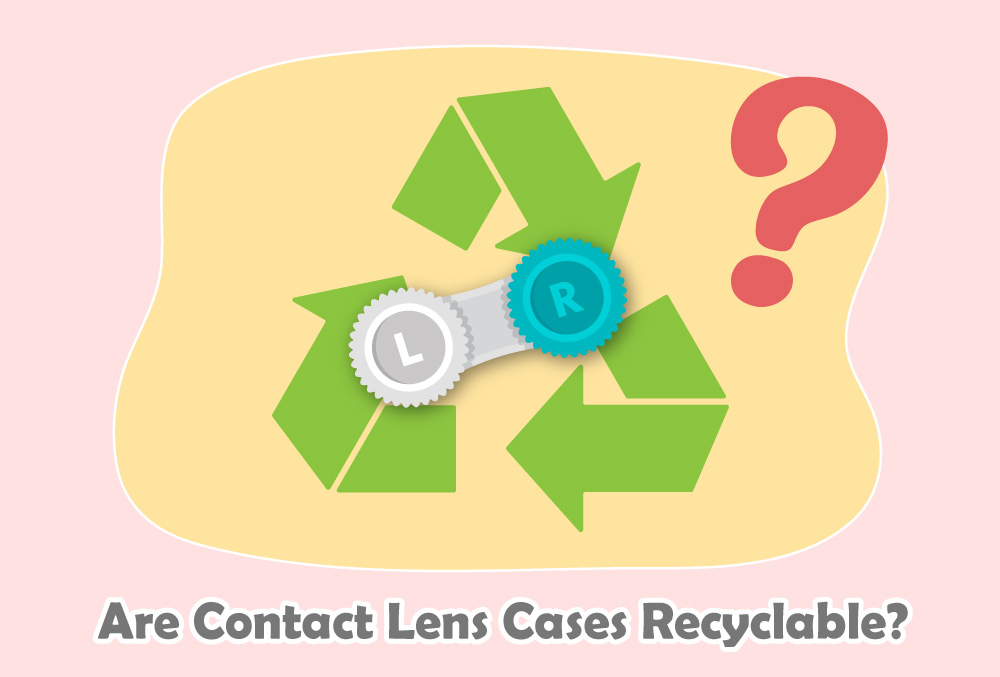 The plastic used to make contact lens cases is absolutely recyclable and is classified as general plastic waste. You could also transform these basic-looking contact lens cases into an interesting piece of eye candy as a way of reusing and recycling.
Here are some awesome contact lens case hacks for everyone that might just tickle your fancy.
---
---
Ideas for Him & Her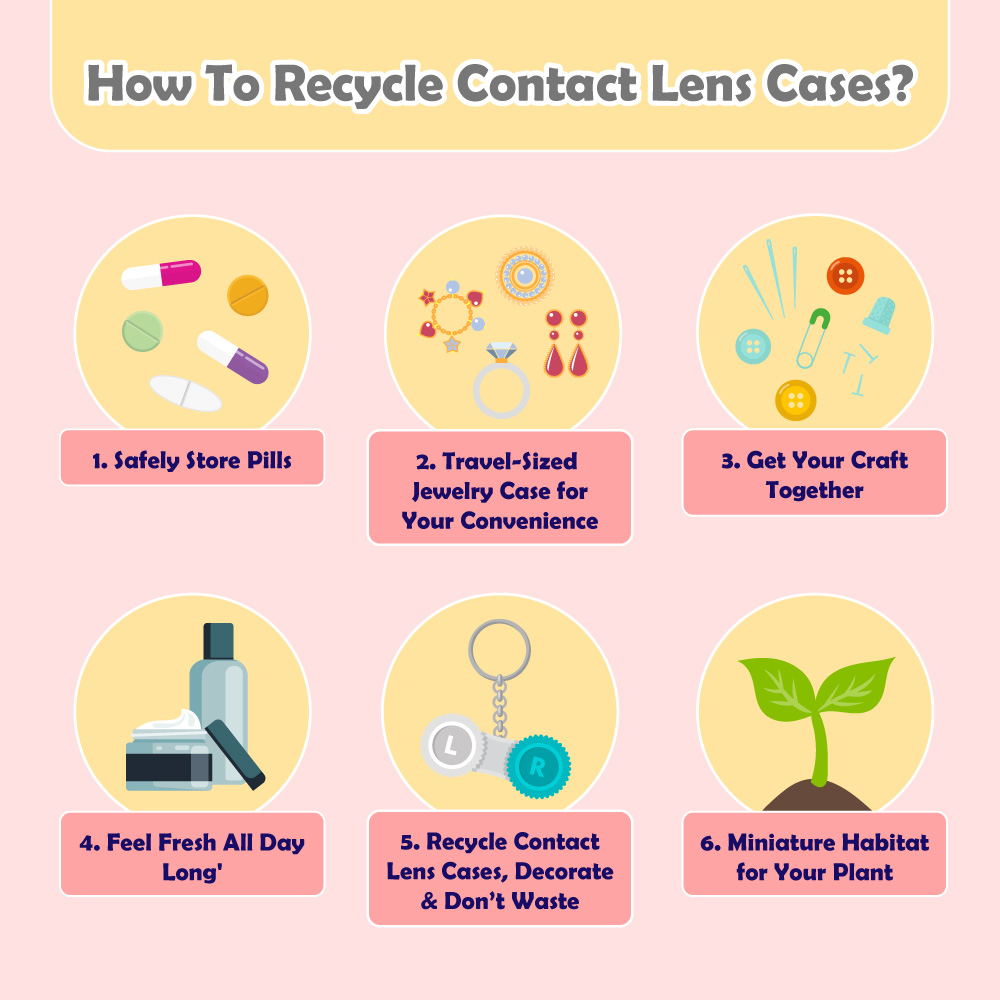 Time needed: 5 minutes
How To Recycle Contact Lens Cases?
Safely Store Pills

Recycled contact lens cases are great for storing pills and they'll keep you on track with your daily medication intake. It may not be big enough to store pills that should last an entire week but it's sufficient enough to store pills for the day.

If you're traveling or planning to stay out all day, just fill it up with your daily dose and you're good to go. In addition to that, each case can easily fit up to seven pills of various sizes.

Remember: Contact lens cases are not exactly childproof so be sure to keep them away from easy-to-reach places.

Travel-Sized Jewelry Case for Your Convenience

If you're traveling light for a short staycation and have no place to store your favorite pieces of delicate jewelry, have no fear!

Believe it or not, recycled contact lens cases are perfect for keeping your jewelry safe, clean, and dry at all times. This could be a girl's new best friend which is a close second to diamonds. Wink.

Get Your Craft Together

Love crafting but not the mess? No worries because a contact lens case is here to sort you out. They're one of the best ways to keep really tiny supplies such as beads, sequins, pins, tiny hooks, and so much more.

To avoid major mix-ups, just label them accordingly and it'll be all good.

Feel Fresh All Day Long

Most liquid beauty products come in big or bulky packaging. For ease of storage, just store a small amount of your face cleanser, moisturizer, or even your favorite liquid foundation on each side of the contact lens case.

Above all, you can bring it along with you wherever you go such as to work, traveling, or where ever else. This way, you'll get to freshen up anytime and anywhere too. Score!

Recycle Contact Lens Cases, Decorate & Don't Waste

Unleash your creativity by turning this plain contact lens case into a 'one of a kind' art piece. Options are aplenty therefore you could always create a personalized fridge magnet, a funky keychain, or whatever your heart desires. You should just trust your inner Martha Stewart.

Miniature Habitat for Your Plant

Decorate your little space with small planters by growing them in these recycled contact lens cases. In addition to that, they're easy to maintain too.

However, that's not it because you can also use it to store flowers or plant seeds for your garden. Extra storage won't hurt anyone, right?
Ideas for Your Little One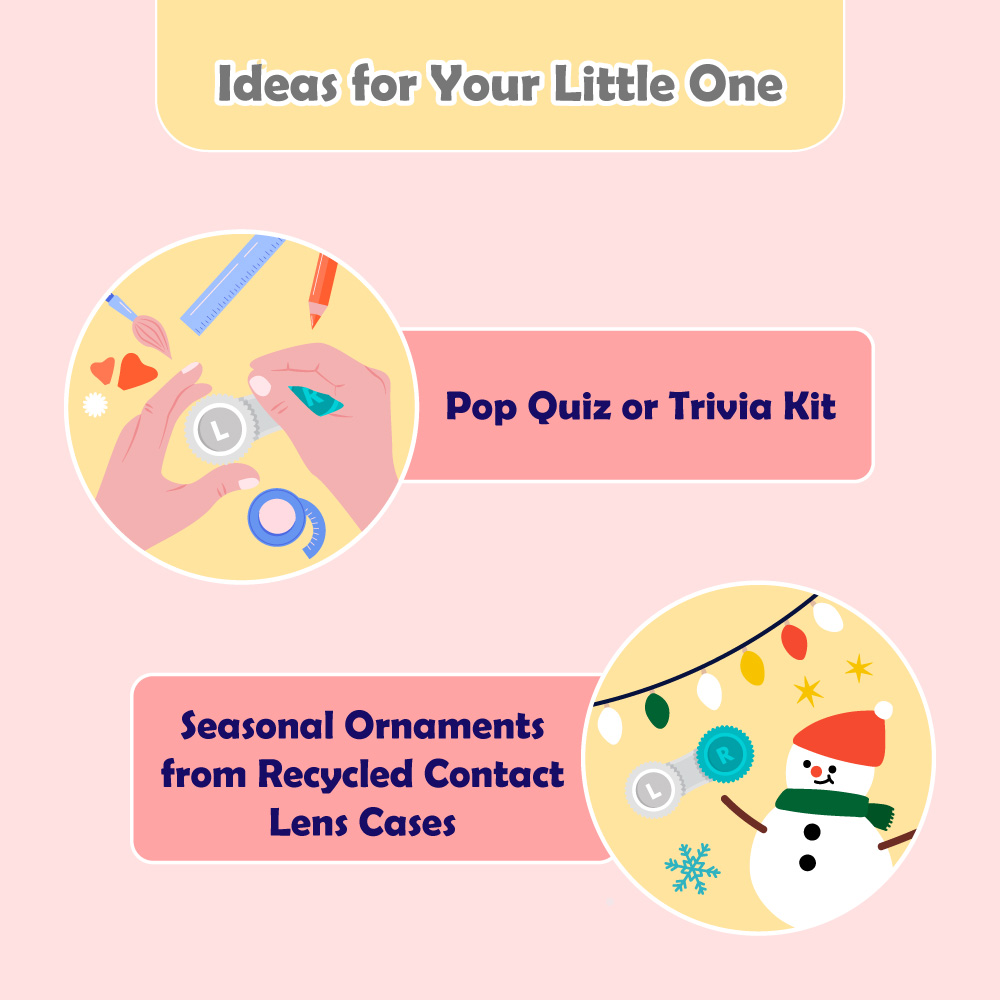 Pop Quiz or Trivia Kit
Experts say that children absorb information better through fun and exciting learning methods. Firstly, you can transform contact lens cases into a simple mathematical tool or paint them to create a memory game for your kids. Then, just have fun with them.
Seasonal Ornaments from Recycled Contact Lens Cases
Kids love arts and crafts! Take this opportunity to spend quality time with your kids by assisting them to create fabulous seasonal ornaments with a personal touch. You could create some for Christmas, Halloween, or perhaps Lunar New Year.
Recycle your Contact Lens Cases Today!
In conclusion, recycling is extremely crucial when it comes to making a sustainable future possible. In one year, approximately billions of contact lens cases are disposed of and not recycled. A little bit can go a long way so before you discard your contact lens case, be sure to add them to a recycle pile or simply get creative.
---
---
Read More: