Keeping magnetic eyelashes looking like new by cleaning them regularly should be your top priority. There is no doubt that we have to keep magnetic eyelashes and other make-up accessories clean for hygienic purposes. However, did you know that it extends the product's lifespan as well? In this post, we will share some simple steps on how to clean magnetic eyelashes, let you know if magnetic eyelashes be reused or are they reusable, how much do these lashes cost, how to store them, and so on. Keep scrolling for more!
---
Estimated reading time: 7 minutes
---
Steps to Cleaner and Better Magnetic Eyelashes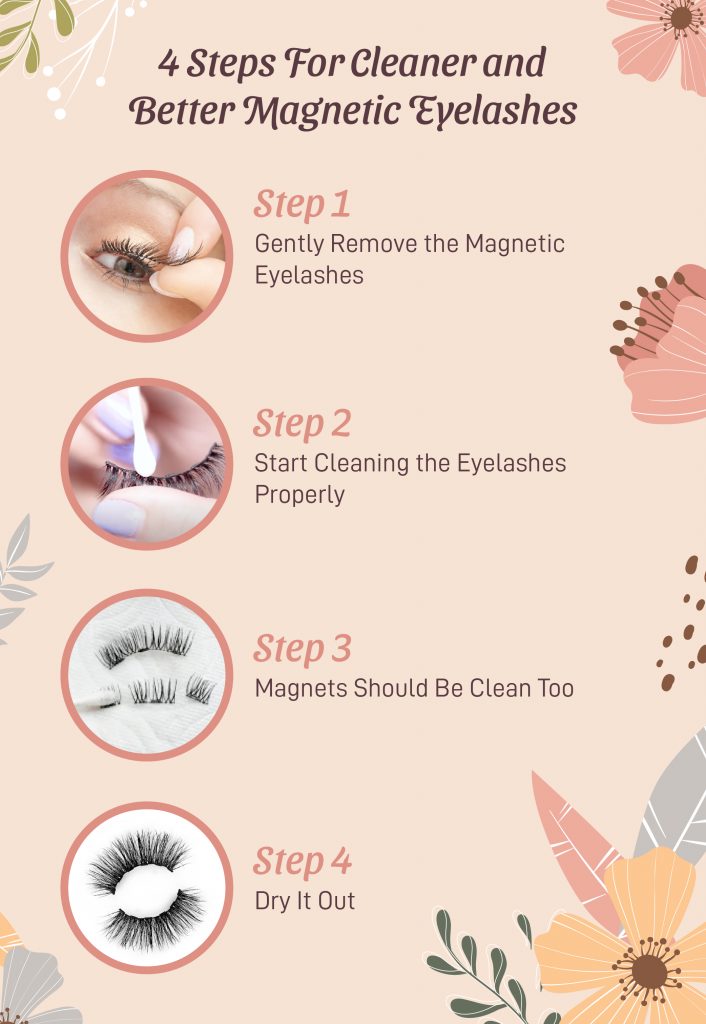 Fragments of magnetic eyeliner usually cause a barrier between the applied eyeliner and the lash magnet. By cleaning off the remnants, the magnetic bonds will be able to stay strong for a longer period of time. If you do not remove excessive debris and dust, it can weaken the magnetic bonds.
So, is there a perfect way to clean magnetic eyelashes? Here are a few simple steps to follow if you would like to learn how to thoroughly clean your magnetic eyelashes.
You will need tweezers, a cotton swab, non-oil based eye makeup remover, and 90% alcohol based cleaning liquid.
Time needed: 1 hour
4 Steps For Cleaner and Better Magnetic Eyelashes
Gently Remove the Magnetic Eyelashes

Before you begin the cleaning process, it would be best to wash your hands first. This way, bacteria or germs will not get onto the magnetic eyelashes. It is crucial to remember that bacteria can cause issues such as eye infection when handling the eyelashes with dirty hands.

Now that is out of the way, your hands are clean and you can gently remove the magnetic eyelashes from the eyeliner.

Start Cleaning the Eyelashes Properly

Once you remove the magnetic eyelashes, start by cleaning off any leftover residue caused by the eyeliner you were using previously. This step will prolong the lifespan of the magnetic eyelashes, allowing it to be reused. At the same time, they can maintain in good shape throughout the product lifespan.

To clean off the eyeliner residue, use only non-oil based eye makeup remover. You can do so by soaking up a cotton pad with it, but not too much. Then, gently rub the lashes with the soaked cotton pad. By doing this, it will dissolve any residue that is on the eyelashes. After that, soak it in mild soapy water, rinse, and let it air dry before storing them in its casing. Be sure to apply a very light pressure only as you do not want to damage the shape of the eyelashes itself.

Magnets Should Be Clean Too

When the magnetic eyelashes are clean and good to go, you can move on to the magnets to ensure that they are clean before the next usage. Start by cleaning off the eyeliner remnants from the magnets. The magnets on the eyelashes need to be cleaned gently, otherwise you may end up scratching them. By doing so, the magnets will remain in good condition for future use.

We recommend to use alcohol swab or makeup cleaning liquid that contains 90% alcohol. This will help ensure that the magnets and eyelashes are absolutely spotless. With the alcohol swab or soaked up cotton pad, dab or wipe along the strip of the magnets and the lashes. With this, your magnetic eyelashes will look spanking new!

Dry It Out

Lastly, air dry the lashes once they are all cleaned up. It is important to dry your magnetic eyelashes the correctly after cleaning them. This way, they will not ruin or go out of shape.
Lifespan – Can Magnetic Eyelashes Be Reused?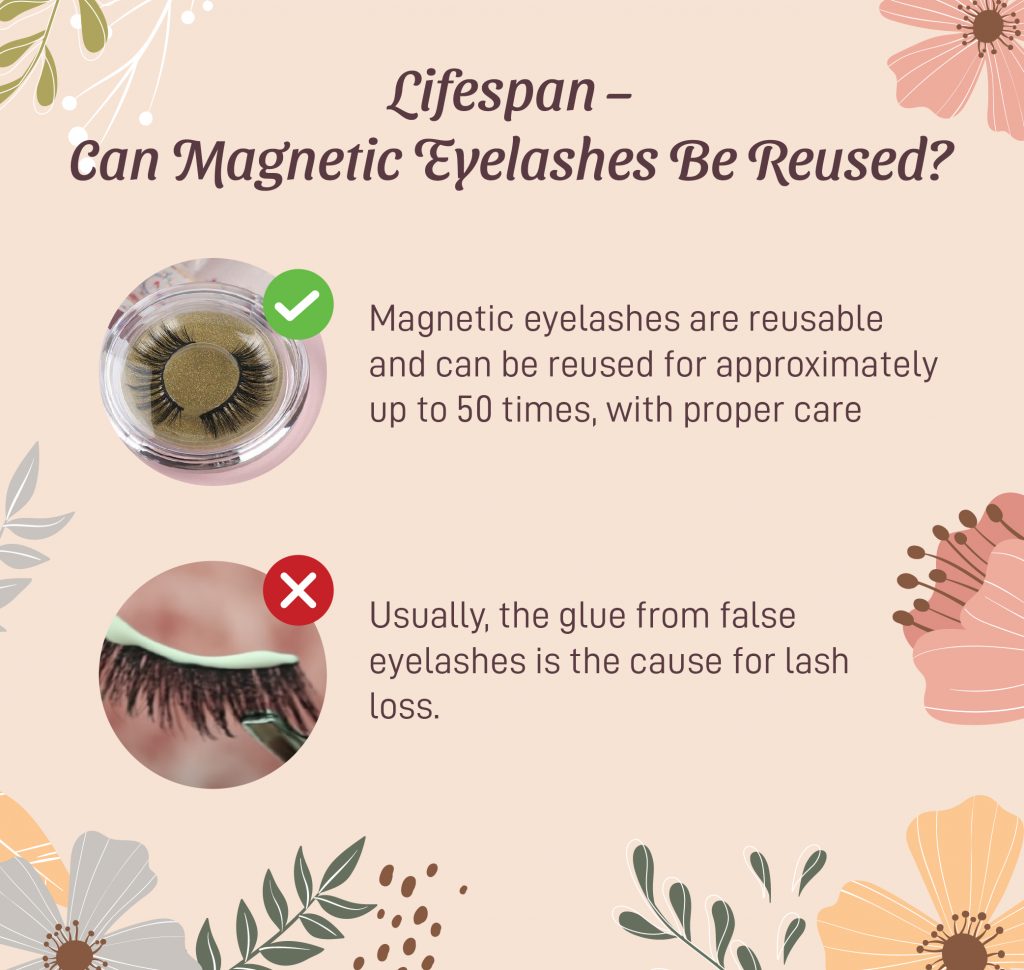 Yes, magnetic eyelashes are reusable and can be reused for approximately up to 50 times, with proper care. On top of that, it can hold up for up to 10 hours upon initial application.
The reusable attributes of magnetic eyelashes is one of the reasons why it is more appealing to both make-up experts and regular users like ourselves, as compared to false eyelashes.
You can put on magnetic eyelashes on a daily basis, just as long as they are clean. However, it is still best to remove them before you sleep.
Magnetic eyelashes are also a more popular choice these days because they are less capable in damaging natural lashes. Usually, the glue from false eyelashes is the cause for lash loss. Magnetic eyelashes are also better in terms of how it looks – more natural and super low-maintenance, compared to the traditional glue-on false eyelashes.
---
How Much Do Magnetic Eyelashes Cost?
---
In general, magnetic eyelashes cost significantly more expensive than false eyelashes. Despite its higher cost, magnetic eyelashes are still the 'go to' option because they are reusable and can last for a longer time. To be honest, we think it is a pretty good deal and "investment".
On the other hand, to ensure that your magnetic eyeliner lasts a longer time than intended, perhaps you could give this trick a try.
Instead of using magnetic liner on your elongated cat-eye shape, apply your regular eyeliner first to get the shape you want, then follow with the magnetic liner only along the base of your lashes.

Cosmopolitan
How to Store or Keep Magnetic Eyelashes?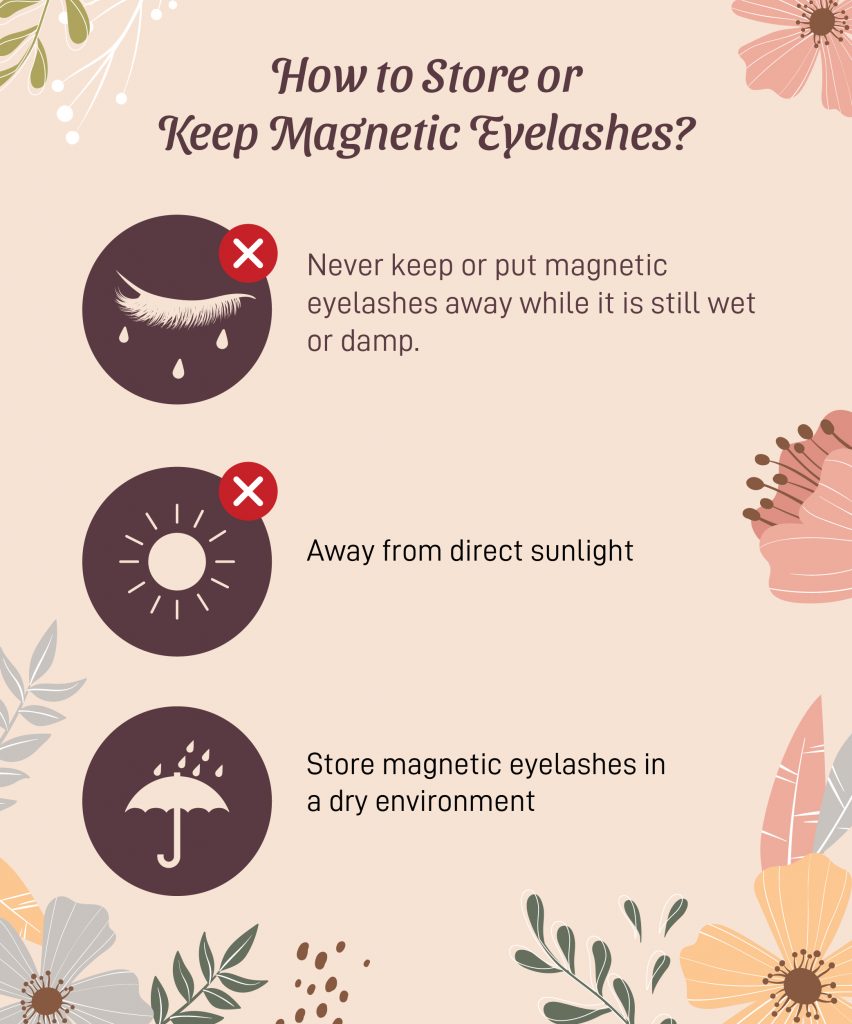 Never keep or put magnetic eyelashes away while it is still wet or damp.
It is also best to store magnetic eyelashes away from direct sunlight because the color of the lashes can change pretty drastically.
In addition to that, make sure that you store magnetic eyelashes in a dry environment without high air humidity.
Final Thoughts
Magnetic eyelashes are all the rage right now and have proven to be longer lasting than the usual false eyelashes. One of the best ways to ensure it stays new is to spend extra time cleaning it and storing them properly. It will also do you good because you will be saving yourself from serious eye infections. When it comes to beauty, it takes a whole lot of commitment for sure.
If you are looking at giving magnetic eyelashes a try, shop with us!
---
---
Read More: