Shopping has never been easier with the advancement of technology and the internet. Whether prescription or non-prescription, is it really safe to buy things especially color contact lenses online?
If you want to buy color contact lenses, just go on the internet, open up an e-commerce website, put your item in the cart, checkout, pay for the item and wait for your item delivered right to your doorstep. As easy as that!
But we understand your concern. You are investing your hard earn money and also trust when you opt to purchase things online.
However, we can assure you that buying your contact lenses through online websites are totally safe. Well, at least if the sellers are trusted and registered retailers.
---
Estimated reading time: 6 minutes
---
5 Reason To Buy Color Contact Lenses Online
Some might say buying prescription or non-prescription colored contact lenses online is not safe. But that's not always true. In fact, there are many benefits you can gain by buying your contacts online. Here are the five solid reasons why.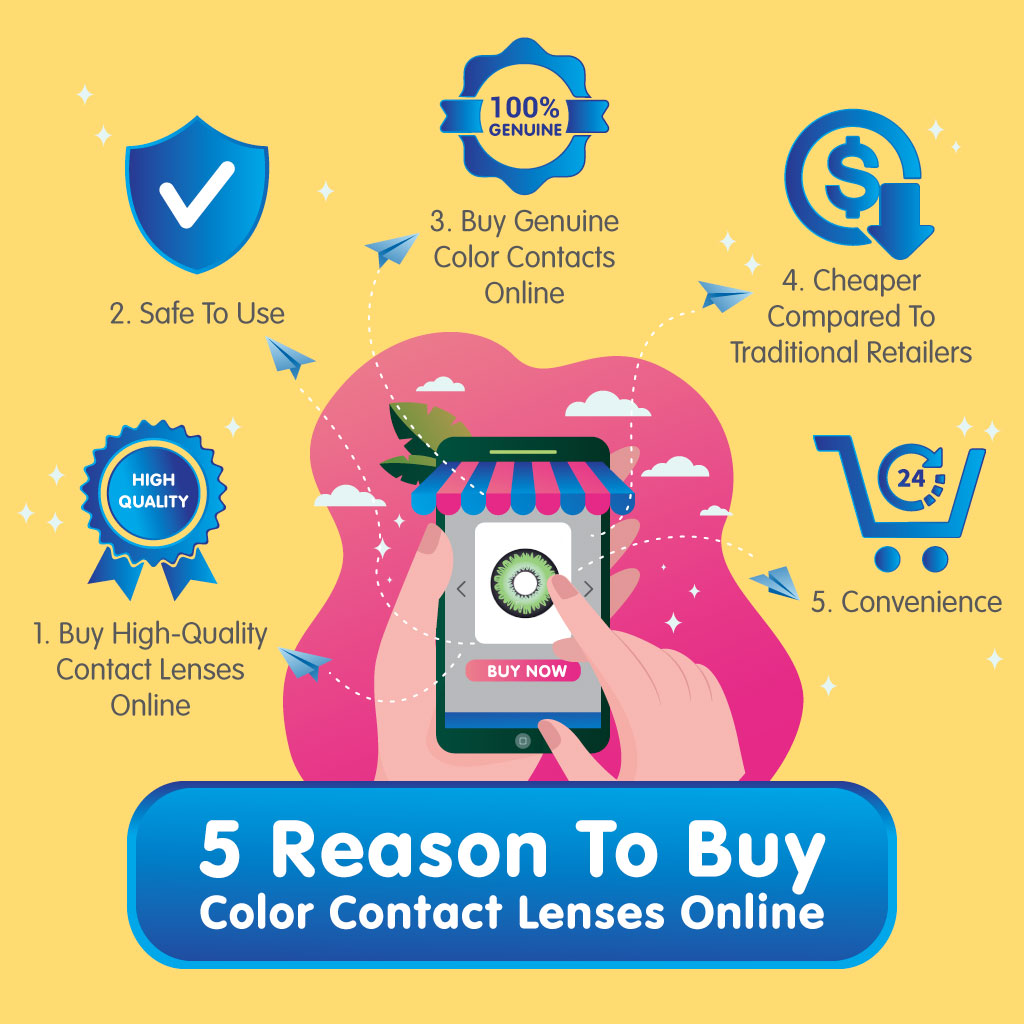 1. Buy High-Quality Contact Lenses Online
Typically, reputable online retailers only sell contact lenses that are of high quality. They usually stock up on contacts that are recommended by opticians and approved by high-standard legislation certification.
It is important for you to know what kind of material and type of contact lens is the best for your need. You should also consider the categories of contact lens based on the recommended wearing time that suits your lifestyle.
There are also contact lens features that accommodate special eye condition such as astigmatism and hyperopia. Therefore, it is essential for you to have your eyes tested regularly to detect any problems with your vision before choosing your contact lenses.
2. Safe To Use
Most of the well-known contact lens brands such as Acuvue, Bausch & Lomb and Coopervision are FDA approved. Some other brand may also be certified by an international body such as ISO and CE.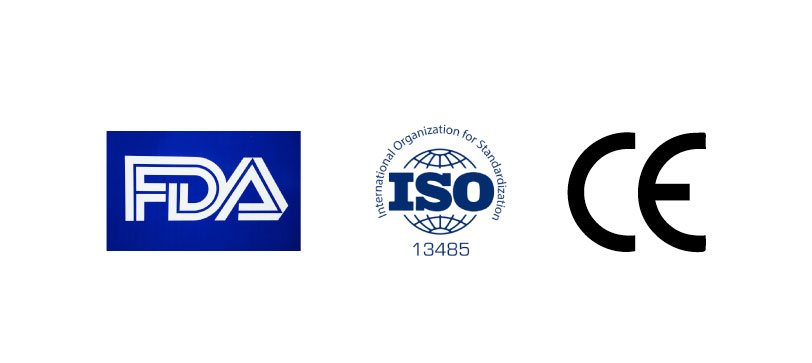 Hold up! What do these supposed to mean?
It means that the contact lenses are manufactured under a strict process before they can be sold in the market. The manufacturers are required to register their products before they can be widely and commercially distributed to the market.
Complications such as eye infections and corneal ulcers can happen due to a lack of proper care when handling contact lenses.
---
Read More: Can Contact Lenses cause Subconjunctival Hemorrhage?
---
These can be prevented by taking proper care of your contact lenses and other contact supplies. Maintain healthy habits while operating your contact lenses and you will be all good.
To reduce risks of infection, it is advisable for you to handle the contact lenses with proper hygiene, appropriate practices for cleaning, disinfecting and storing.
Wearing the contacts following the recommended wearing schedule is also important. You don't wear the contacts when they are already expired. You are abusing your eyes if you do so.
Remember, healthy habits mean healthy eyes. Good compliances of contact lens care are essential for trouble-free wear.
3. Buy Genuine Color Contacts Online
Some website sells their contact lenses at a lower price or often offer heavy discounts.
You may wonder why and how they could do that? Are they selling counterfeit contacts?
No, they are not selling fake items. The contact lenses sold on the website are authentic products.
The truth is, online retailers obtain their contact lenses supplies directly from the manufacturers. Therefore, the online vendors are able to provide you with lower price even though the products are from huge brands.
Did you know you can report any website if you think they are illegally selling counterfeit contact lenses? If you notice any suspicious website, go ahead and report them to the FDA.
Check out the seller's reputation before buying from them. Refer to previous customer reviews to see any complaints against their websites or their products. Look for their FAQ page as well to understand them better.
4. Cheaper Compared To Traditional Retailers
Some people say, don't trust cheap stuff sold online. We say, why not?
Cheap doesn't mean the item is terrible.
Think about how much cost the sellers can save when they sell online. No physical premises needed to be rented. Less cost on electricity and other utilities.
That is how online retailers can sell cheap colored contact lenses online. At the end of the day, both the parties – customers and online retailers – get the benefit out of this.
Prices of the same brand and type of contacts may vary from one seller to another. So, survey your options from multiple websites. You might be able to save more money by doing some comparison.
5. Convenience
Not only you can purchase high quality, genuine, safe to use and cheaper contact lenses, but it is also convenient for you.
You don't have to go out and probably stuck in the traffic just to buy your contacts. Furthermore, you can save your time, money and energy as well.
All you need is a few clicks and you are good to go. You will be wearing your new contact lenses in no time with minimal fuss and hassle-free ordering.
The best part is, you can survey what brands and the kind of contacts available before you decide which one to purchase. Imagine going out to a store to find out the brand you always used has run out of stock. What a waste of time.
Moreover, purchasing contacts online means you don't have to go and see your opticians every time. As long as you have your prescription, you are all set. Some sellers even ready the prescription renewal if you are buying prescription colored contact lenses online.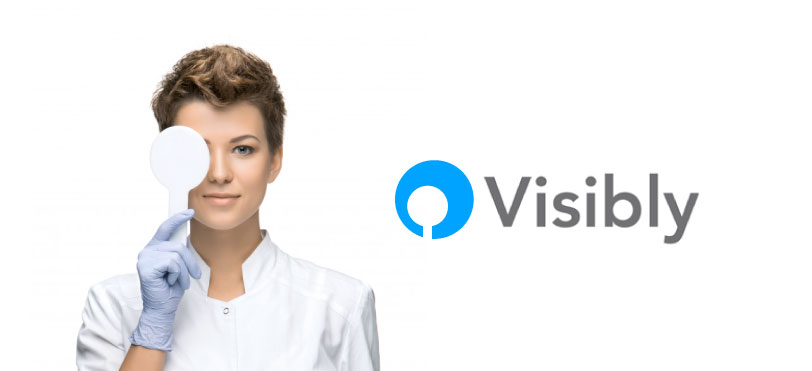 Head to the website, choose your preferred brand, fill in your prescription details, place your order and check out. Isn't easy?
But we do encourage you to perform regular eye test and check-ups every now and then. They are not only crucial for contact lenses and glasses prescription but also to diagnose eye diseases.
Conclusion
Now you have nothing to worry about. It is safe and convenient to get your color contact lenses online especially from a reputable and well-known website just like Uniqso.
Go ahead and check out your favourite color contact lens on the site. We got a lot of color contact lenses to offer.
---
Read More: