Contact lenses hygiene is everything! And especially if you are a regular contact lens user, hygiene is something you shouldn't compromise on. Cosmetic contact lenses or regular contact lenses, you must take hygiene seriously so that your eye health stays intact.
We will be highlighting seven smart hygiene habits for contact lenses. The following hygiene habits cover the proper, smart and safe ways to handle your contact lenses to protect your eyes and ensuring that you have a safe and comfortable wearing experience.
---
Estimated reading time: 7 minutes
---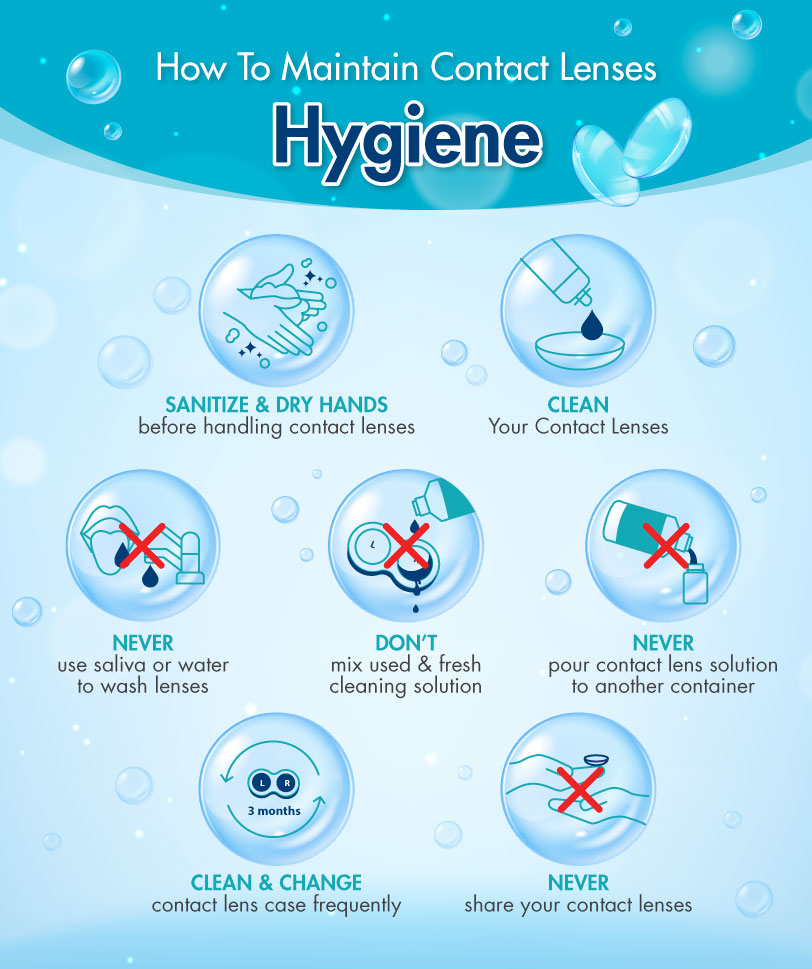 Time needed: 5 minutes
How To Maintain Contact Lenses Hygiene
Sanitize and Dry Hands Before Handling Contact Lenses

Clean Your Contact Lenses Frequently

Never Use Saliva or Water to Wash Lenses

Don't Mix Used and Fresh Cleaning Solution

Never Pour Contact Lens Solution to Another Container

Clean and Change Contact Lens Case Frequently

Never Share Your Contact Lenses
How To Maintain Contact Lenses Hygiene?
1. Sanitize and Dry Hands Before Handling Contact Lenses
Before putting in your contact lenses or removing your contact lenses, make sure to wash and dry your hands first. We created a simple infographic to guide you on the proper hand washing, which you can read more here. Wash your hands with soap and water, and dry your hands before taking your contact lens.
Directly handling contact lenses without properly cleaning and drying your hands can transfer germs, bacteria, and debris onto your eyes via your regular or cosmetic contact lenses. If your contact lenses' sterility gets compromised, it can hugely affect your visual field and iris recognition, not to mention the discomfort it may cause.
2. Clean Your Contact Lenses
Another smart hygiene habit to keep your contact lenses in tip top form is to cleanse them frequently, even if you don't wear them every day. Before wearing your contact lens, gentle rub and rinse it with contact lens solutions. Do the same after you remove your contact lens.
Besides that, do not use a home-made or non-medically approved contact lens disinfection solution. Go for the trusted brands in the market or seek an eye doctor's recommendation to get the correct contact lens solutions.
Mishandling of your contact lenses and improper cleansing will result in cross contamination and protein built-up, causing eye irritation and infection.
3. Never Use Saliva or Water to Wash Lenses
Forgot to replenish your contact lens solutions or left it at home during travel? No matter what the situation is, you should never ever use saliva or water to wash your lenses. Although it may be out of convenience, tap water no matter how clean it is, is not meant for your contact lens because it does not have any disinfecting or sterilizing purpose. On the other hand, our mouth is filled with numerous bacteria. Therefore using your saliva to clean your contacts is just asking for trouble – in this context, an eye infection.
Carry a travel-sized contact lens solution with you in case of emergency. There is plenty of travel- friendly contact lens kits that you can get online for proper handling of your contact lenses even when you are on the go.
4. Don't Mix Used and Fresh Cleaning Solution
Another hygiene protocol for your contact lenses is not to mix a used contact lens solution with a fresh one. If you have used a certain amount of contact lens cleaning solution to clean your contact lenses even for once, you should dump the remaining solution in the case and replace it with completely fresh solution for the next use.
Eye doctors recommend using one measure of cleaning solution for just one cleaning. So, the next time you want to sterilize and disinfect your contact lenses, remember to pour a fresh amount of liquid from the cleaning solution bottle. Never top up or mix a used cleaning solution with a fresh one.
5. Never Pour Contact Lens Solution to Another Container
Regular or cosmetic contact lens cleaning solutions are packed in a special sterilized container. It is recommended not to switch the cleaning solution container as the other receiving container might not be thoroughly sterilized and disinfected.
Bottles or containers used for contact lens cleaning solution are specifically created and designed to contain the liquid safely. One cannot guarantee that other containers or bottles are safe to store the cleaning solution without compromising its quality.
So never ever shift or transfer your cleaning solution to any other bottle or container.
6. Clean and Change Contact Lens Case Frequently
The contact lens case is where you store your contact lenses. It is recommended that one changes the contact lens case every 3 months for eye health. Usually, we only change the solution but not the lens case, hence, bacteria or germs remain and can build up overtime.
Apart from changing your contact lens case frequently, you should also clean the lens case frequently by rubbing and rinsing with a contact lens solution. Dry the lens case using a clean tissue or letting it air dry with the cap off.
Changing and cleaning your contact lens case frequently or after each use is the way forward to ensure proper hygiene and a clean contact lens for good vision. If your contact lens case gets compromised, your contact lenses will be contaminated, and so will your eyes.
7. Never Share Your Contact Lenses
Last but certainly not least, never share your contact lenses with anyone. Even if you regularly clean your contact lenses, its case and take special care of all the precautions, do not share your contact lenses with anyone. Just like you won't share your toothbrush, the same theory applies for contact lens.
The cosmetic contact lens you bought is based on your very own prescription; therefore, you can't share it with anyone else as each person has their own prescription. Wearing and handling contact lens itself poses the risk of eye infection because contact lenses are prone to germs, bacteria, debris contamination and may even carry infections. Using a contact lens of another person can transfer all of that into your eyes.
Conclusion
The care and maintenance of your contact lenses should not be taken lightly. Practice good hygiene habits and avoid making dangerous mistakes that will compromise the health of your eyes.
---
Read More: