Eye health is as important as our body's well-being. According to the American Macular Degeneration Foundation, more than 10 million Americans are suffering from macular degeneration. Macular Degeneration is the leading cause of blurred vision, blindness, and color blindness. It is important to take care of our eye health especially if you wear contact lenses. One of the best ways to do so is to simply make small changes to one's diet.
Health in general has become one of the most important issue today as we battle our way through the Covid-19 pandemic. While we work on our well-being, don't forget to also take care of our vision to the world – our eyes.
In order to help you kick-start your journey to maintain good eye health, we have specially curated the Top 7 recipes for health eyes. These recipes contain essential nutrients like lutein, zeaxanthin, omega-3 fatty acids, and vitamins A/C/D/E, all required for healthy eye growth and well-being.
---
Estimated reading time: 7 minutes
---
7 Recipes for Healthy Eyes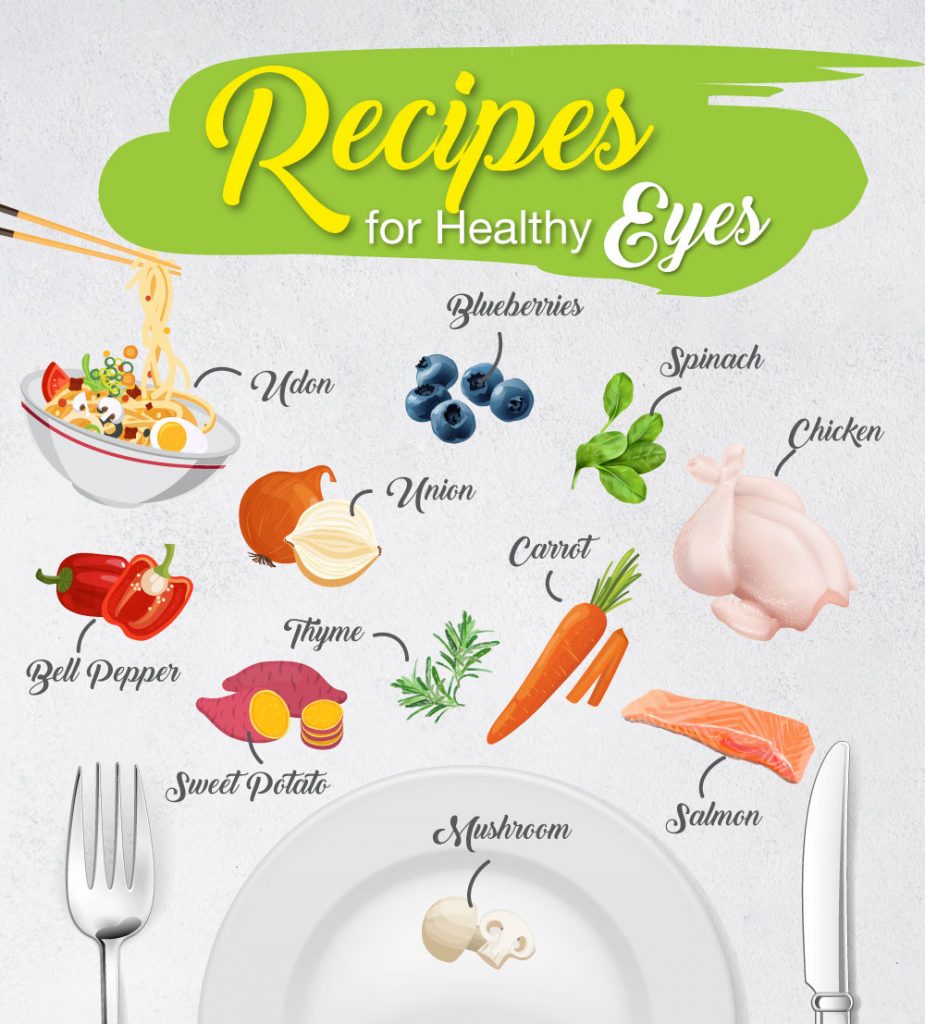 1. Carrot Soup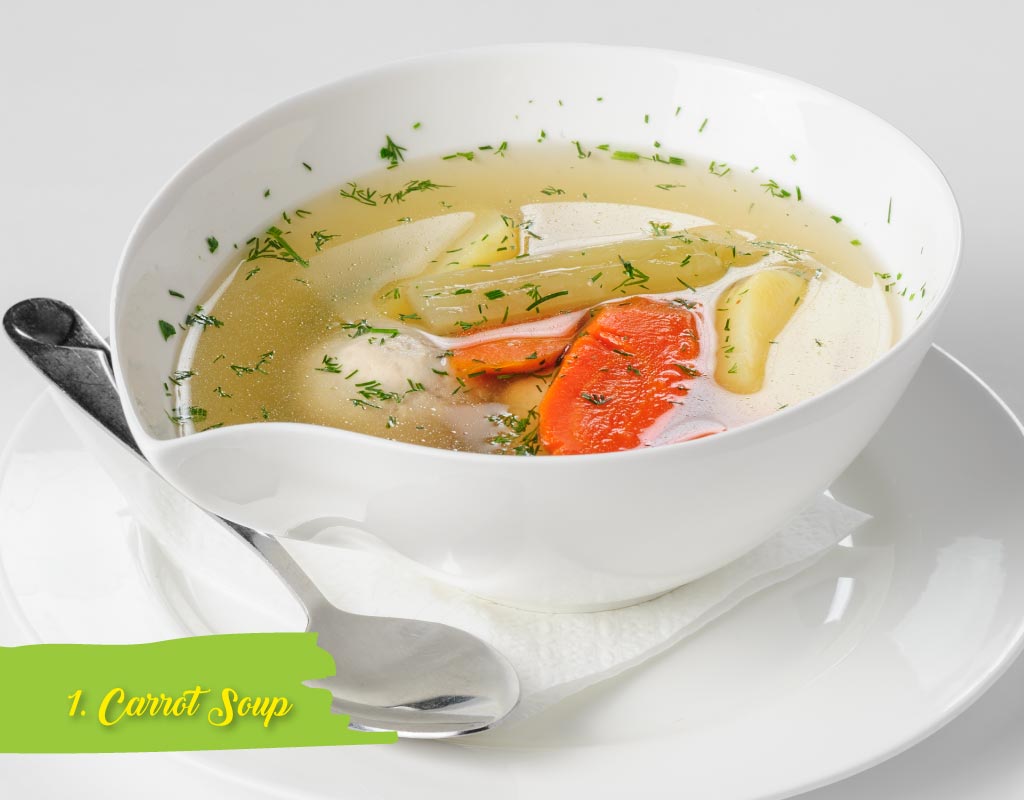 Carrots are a great source of improving low light vision as they are rich in beta-carotene and minerals that generate vitamin A. According to AMDF, intake of two carrots via soup is enough for the vitamin A our eyes need on daily basis.
This dish can be easily prepared with 450g of carrots, one onion, one potato, 1 tbsp ground coriander, 1 tbsp oil, 1-liter vegetable stock, and a handful of fresh coriander to garnish. Sounds easy, well it is. So, what are you waiting for? Treat yourself to a healthy carrot soup today to improve your eye health.
2. Chicken with Mushrooms and Thyme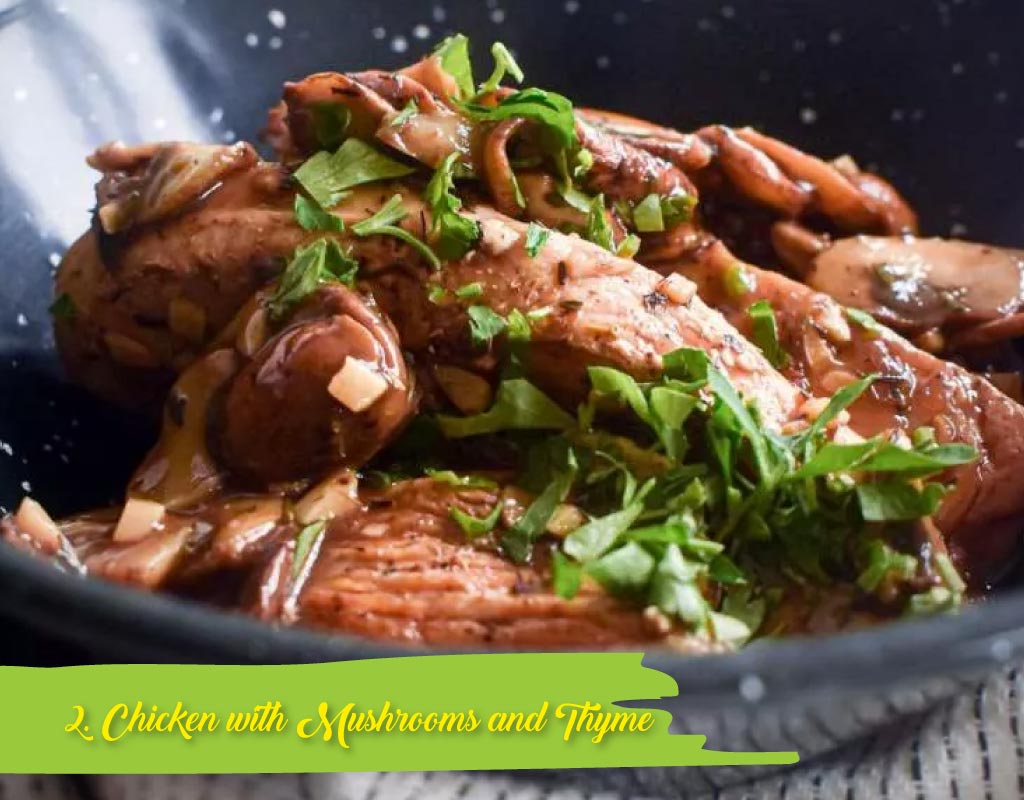 Just like the other parts of our bodies, our eyes need energy too. And this recipe is all about providing energy metabolism to your eyes. In addition, chicken is rich in niacin; that's a type of vitamin B required to produce energy and boost the metabolism. Besides helping you to maintain good eye health, the chicken recipe with mushrooms and thyme also provides phosphorus, which is essential for healthy bones and teeth.
Don't know much about the recipe for chicken with mushrooms and thyme? There are many recipes on the Internet you can get, but because we want to make it easy for you, here's one from SlenderKitchen with easy-to-follow instructions.
3. Salmon, Spinach and Pesto Tart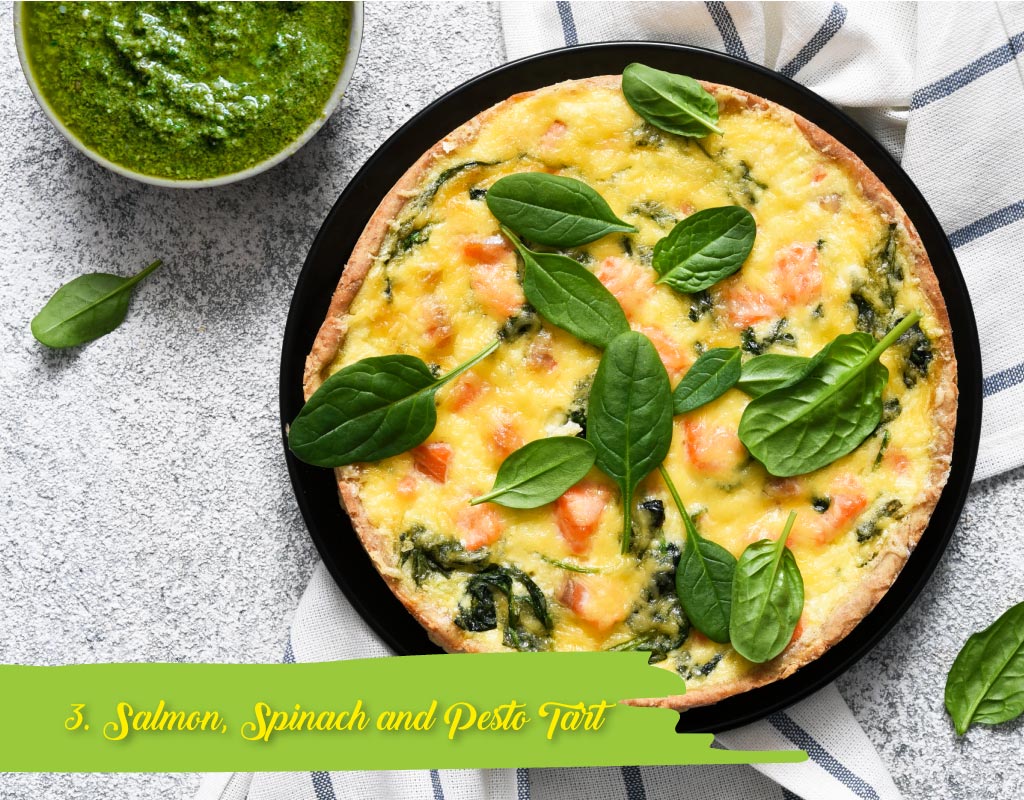 Combined salmon, spinach, and pesto and you have a sumptuous tart recipe for healthy eyes for those who want something delicious yet nutritious at the same time. First, salmon provides omega-3 fatty acids that will help you fight off dry eyes and protect the retina and iris recognition system. In addition, spinach and other greens provide lutein and zeaxanthin, which are great antioxidants for protecting your eyes from macular degeneration, cataracts, and other eye diseases. Lastly, the pesto tart will just add a delicious twist to the recipe.
4. Spicy Udon Noodles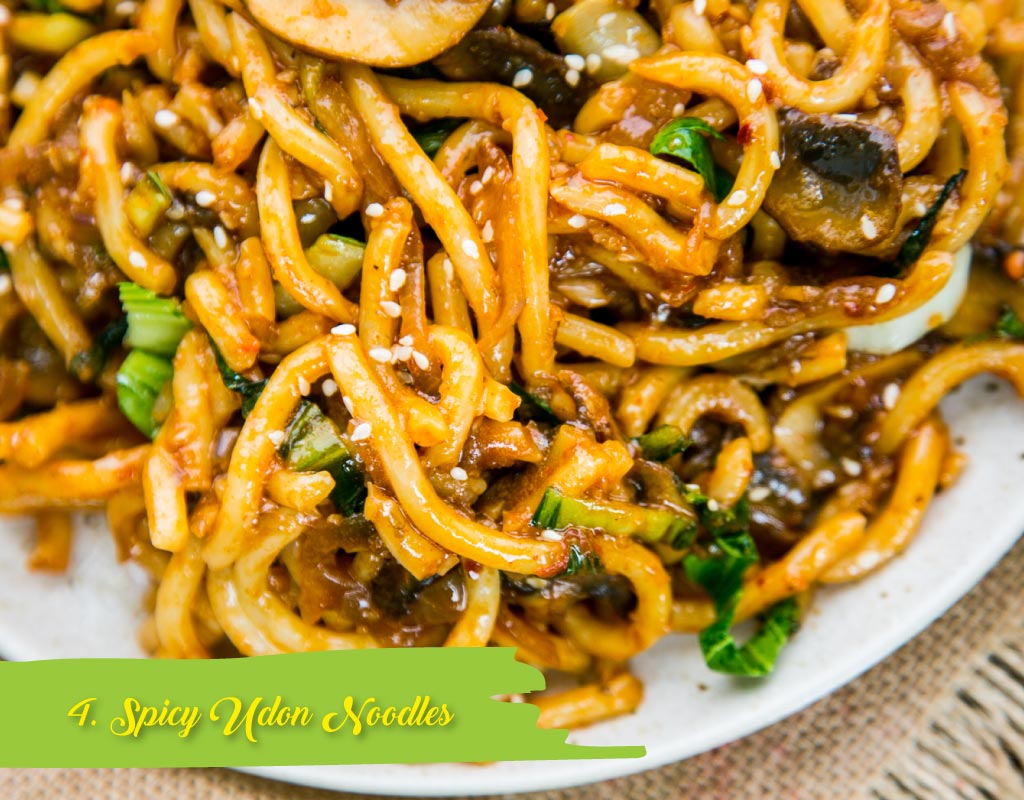 Boost your eye health with this recipe ala Japanese. A bowl of spicy udon noodles includes multi-colored vegetables and fruits that are great for your eye health. Apart from being beneficial to the eyes, the dish helps lower the risk of cancer and protects your heart. Noodles is a staple food especially in Asian countries, therefore for the adventurous ones, this recipe will give your palate a nice stimulation with its spicy sauce. Get the recipe here TheChutneyLife.
5. Sweet Potato, Bell Pepper and Chorizo Frittata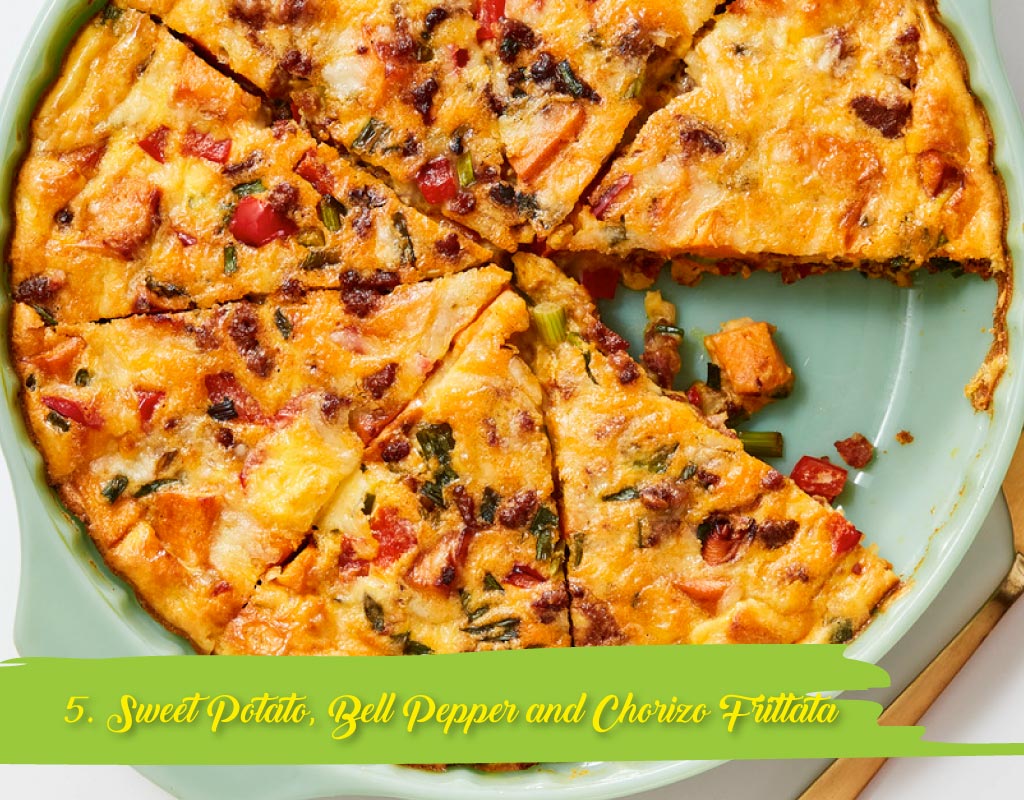 Before we tell you the healthy story of this recipe, here's the recipe we curated from MyFoodAndFamily to help you prepare the dish at home.
As one of the recipes for healthy eyes, this dish contains sweet potato, which has vitamin A that will help your eyes to function better in low-light situations. Furthermore, bell pepper will decrease your chances of getting cataracts as it is rich in vitamin C. Lastly, the chorizo just adds a little spice and texture to the dish.
6. Kale Chips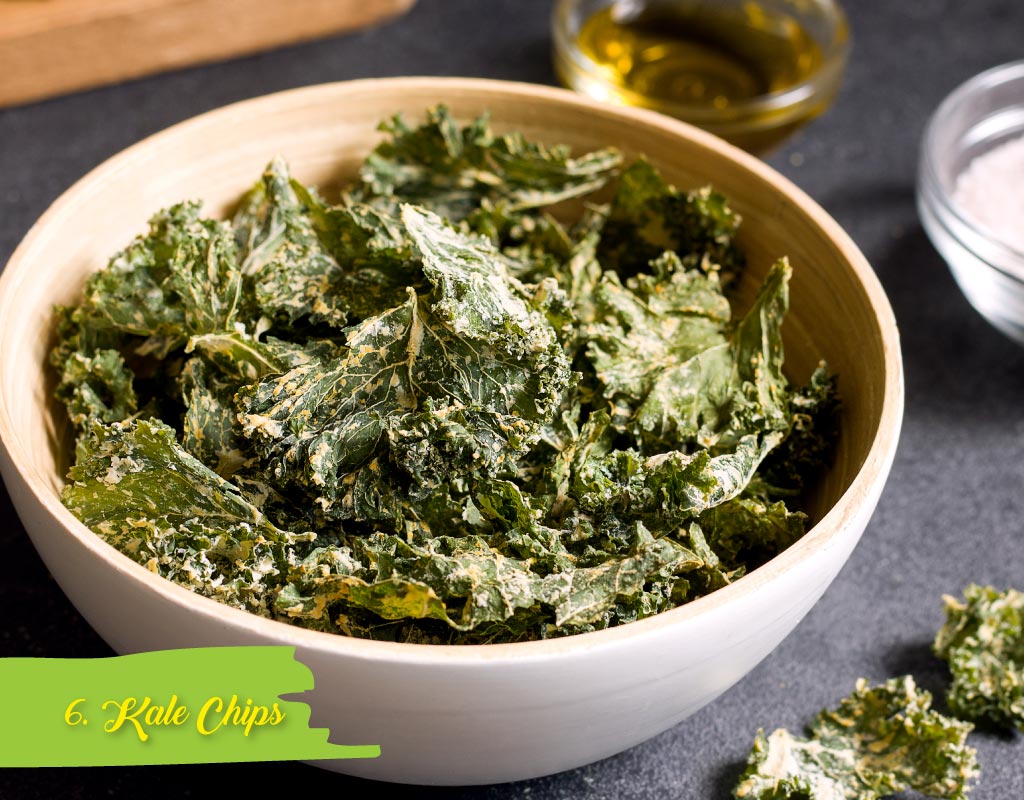 Kale chips have one of the most top-notch nutrient profiles in the vegetable list. This green is bulked up with lutein, zeaxanthin, and vitamin K, all of which are superb for improving your eye health. In addition to that, Kale contributes significantly to protecting your eyes from blindness, color blindness, blurred vision, and other illnesses.
Simply do a quick search on the Internet and you will find countless Kale chips recipes to choose from. Try this nutritious yet easy to make snack that's packed with all the goodness for your eyes.
7. Blueberry Cream Pie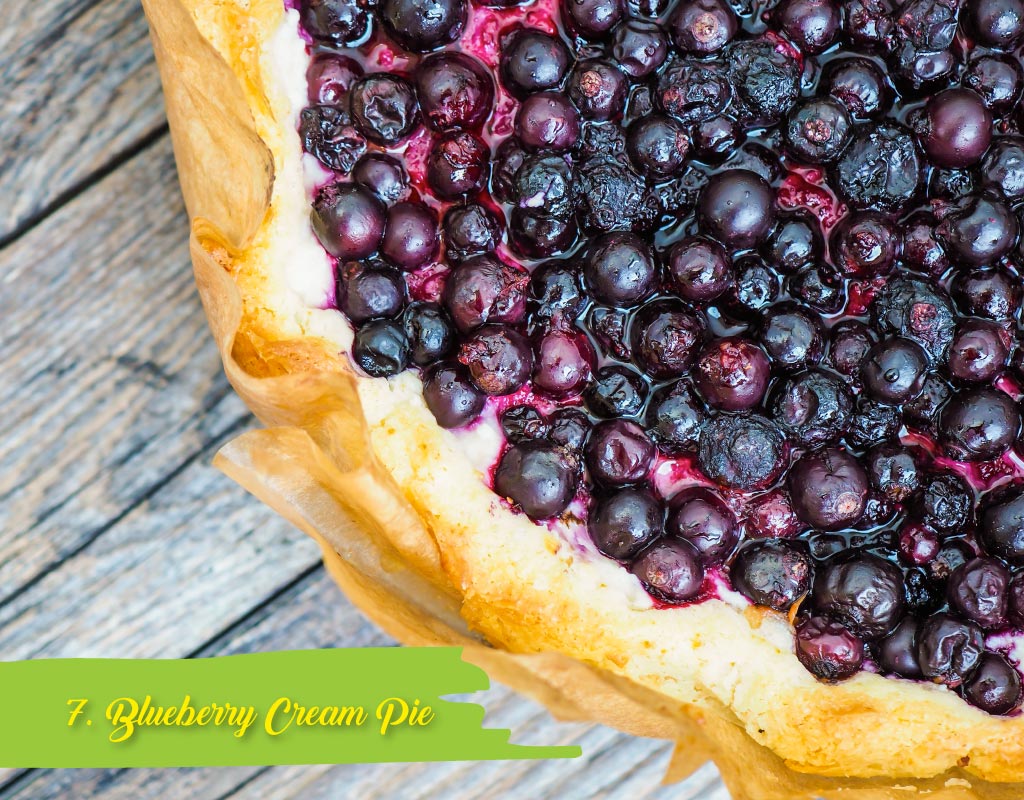 Berry fans rejoice! For those of you who don't know, blueberries are loaded with vitamins A, C, E and minerals like zinc, and selenium. Simply put, blueberries are a great source of powerful antioxidants that will keep your eyes healthy. Psst…they are great for anti-aging too.
However, just eating raw blueberries isn't as fun as having them in a pie, right? Try this blueberry cream pie recipe by TasteOfHome today!
Water, Water and More Water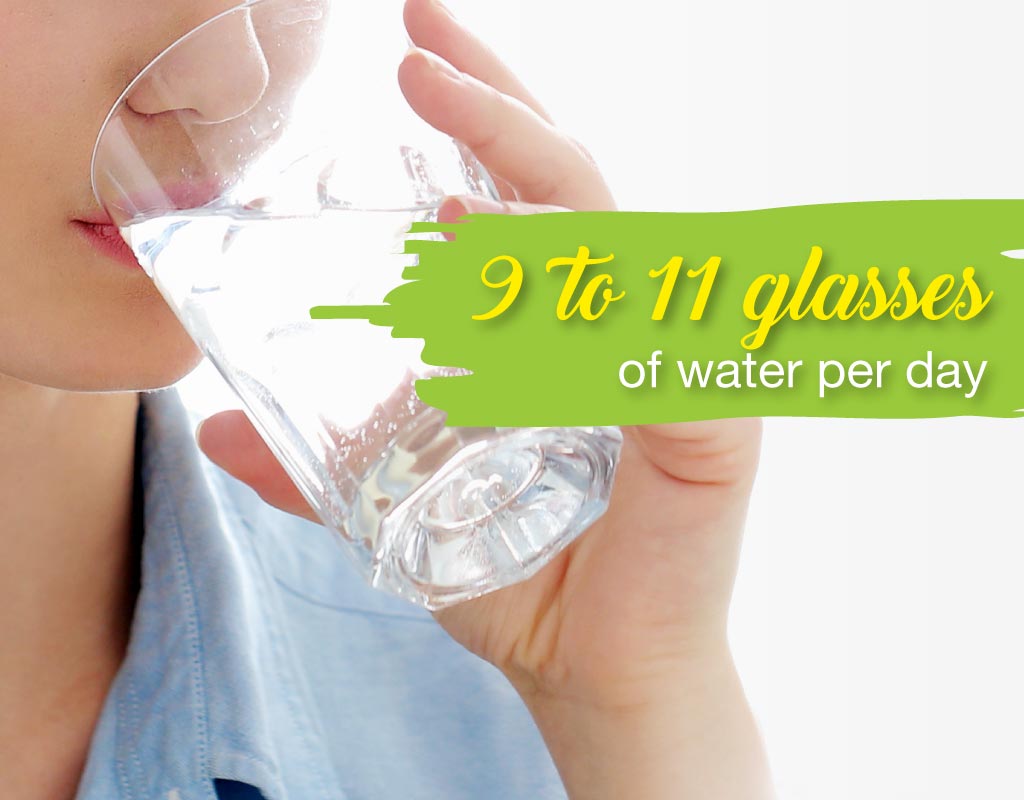 We all know that hydration is the key to keeping your eyes healthy. Even though we are pretty aware of this fact, many tend to forget about actually keeping themselves hydrated. Are you guilty as charged too?
Try consuming 9 to 11 glasses of water per day, and you'll see a drastic improvement in your eyes. Your vision will be clearer, and you'll notice that you don't experience dry eye problems. There are also vitamin-enriched beverages available in the market that are recommended as supplements for improved well-being including your eye health.
Now you know how to maintain good eye health – just eat right!
Conclusion
If you are a contact lens wearer, don't forget to practice good hygiene habits when handling your contact lenses to ensure the safety and also healthy of your eyes.
---
Read More: